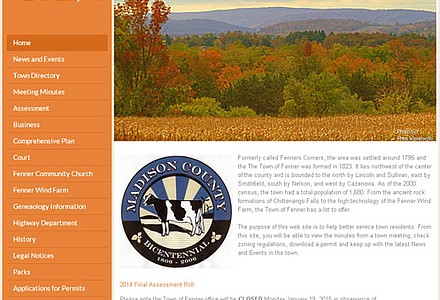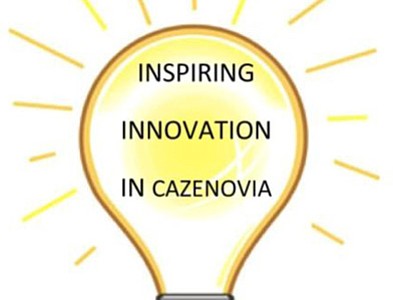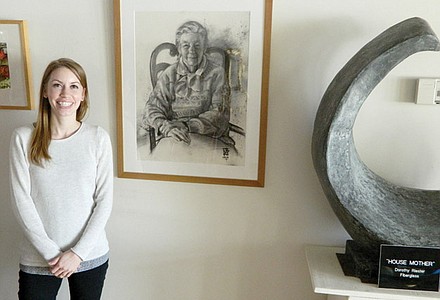 Tue

Wed

Thu

Fri

Sat

Latest stories

The start of a new year often brings change; and, to kick-off 2015, the town of Fenner recently launched a new town website that will offer community members more user-friendly access to vast amounts of town information, including local history, geneology, local photographs, links to local laws and regulations and a local business directory.
The 2015 Madison County Travel Guide is now available from Madison County Tourism. The 52-page guide presents visitors with comprehensive sections on dining, recreation, lodging, events, shopping and other opportunities.
Six local organizations receive Common Grounds Challenge Grants during pilot year
Six local organizations — from municipalities to non-profit groups to student groups — recently received more than $15,000 in grant funding in order to undertake projects that will benefit the Cazenovia community. The projects were selected as awardees of the local Common Grounds Challenge Grant program, which is in its pilot year.
The CNY Jazz Arts Foundation is warming away the midwinter blues with some jazz. January Jazzfest is filling four levels of Mohegan Manor in Baldwinsville with a sampler of jazz artists Sunday, Jan. 25, including vocalist Nancy Kelly, saxophonist Ralph Lalama and trombonist Melissa Gardiner.
Girl Scouts gear up for sales pitches, service projects
Between earning awards and serving their communities, area Girl Scouts had a busy 2014. This year will be just as busy as the girls set their goals for the annual cookie sale — which is available online for the first time ever — and continue pursuing service projects within their communities.
During its first meeting of the new year, the Cazenovia Town Board last week approved its annual organizational appointments for the town government as well as attended to regular business.

After more than one year of being run by an interim director, the Stone Quarry Hill Art Park Board of Directors last week announced the hiring of a permanent executive director for the park — Emily Gates Zaengle. Zaengle, 27, a native if Unadilla Forks, holds advanced degrees in both landscape architecture and museum studies and during the past three years has served as both an intern and a volunteer at the art park.
The schedule of events for this year's Cazenovia Winter Festival has been released. The festival will take place from Thursday, Feb. 5 through Sunday, Feb. 8.

In closing out a successful 2014, Cazenovian Beezie Madden has been named the USEF Equestrian of the Year for the second year in a row and a fourth time overall. She is the first person to have claimed this top honor four times, having won the title in 2005, 2006 and 2013 previously.

The Silverwood Clarinet Choir has announced that it will perform a free concert at 2 p.m. Sunday, Feb. 1, at the Oneida Library, 220 Broad Street, Oneida.

Experience the magic of winter during the 37th annual Winter Living Celebration from 11 a.m. to 4 p.m. on Jan. 24 at the Rogers Environmental Education Center in Sherburne. Hosted by the Friends of Rogers, this fun-filled day will be packed with outdoor activities and demonstrations.

The Onondaga County Sheriff Office is investigating a fatal crash that claimed the life of a two-year-old Cazenovia boy last evening.
The annual Madison County Field Crops Meeting will be held on Tuesday, March 17. Registration begins at 9 a.m. at Empire Tractor, 2893 Route 20 East in Cazenovia.
During January and February, seven technology classes will be offered at the Cazenovia Public Library. Three classes will be conducted by Margaret Teitsch Mulvey, beginning with "Windows 7" on Friday, Jan. 23, followed by "Windows 8" on Wednesday, Jan. 28, and "The Basics of Microsoft Word" on Wednesday, Feb. 4.