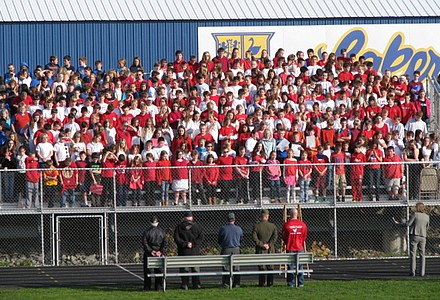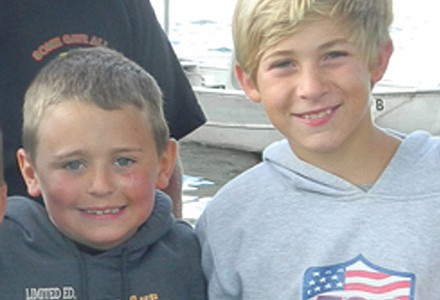 Wed

Thu

Fri

Sat

Sun

Latest stories

World War II veteran Karl Monson of Cazenovia recently received the insignia of Chevelier of the Legion of Honor at the French consulate in New York City on Nov. 7, and then four days later attended the Onondaga County Veterans Day ceremonies at the Syracuse War Memorial last week, where he was honored by Onondaga County Executive Joanie Mahoney and Syracuse Mayor Stephanie Miner.
About two dozen district parents coordinated their attendance at the Cazenovia Board of Education meeting last week in an effort to convince the board to change the district's policy that allows for students to leave school to attend hour-long religious education classes at local churches. This "religious release time," as it is officially called, is not transparent in how it is administered, unfair to the students who do not attend it because they are not taught anything of value during that hour and should not take away learning time in a public education system, according to the parents' complaints.

Cazenovia Middle School students last week honored Veterans Day by forming a human flag, singing the Star Spangled Banner and thanking five local veterans invited for the occasion.
TV and film actor tells the inside story, with humor
St. James Church will be hosting actor Frank Runveon on Monday Nov. 28 at 7 p.m. for a Hollywood vs. Faith speech.
Tax rate to stay the same as 2014
The Fenner town board last week voted to adopt the 2015 preliminary budget as the final budget, which will have the same tax rate as last year.

Harry Hausser, of New Woodstock, will receive award for summer rescue of man who fell into DeRuyter Lake
When 8-year-old Harry Hausser and his 11-year-old cousin rescued a 63-year-old man who had fallen out of his boat into DeRuyter Lake in August, they were not trying to be heroes, they just saw a man who needed help and they helped him. On Dec. 3, however, the boys will be honored as heroes when they receive the Youth Good Samaritan Award at the 16th Annual Real Heroes Breakfast Event of Central New York at the OnCenter.
The spicy aroma of wassail, the shimmer of handbells — it's "Christmas at Lorenzo," and the magic of the holiday season takes flight this year in each room of the mansion. From peacocks in the formal dining room, to cardinals in the gentlemen's library, the artistry of volunteer decorators will bring the theme "Birds of a Feather" to life in every room.
Nearly two weeks after Election Day, the race for the NY-121 State Assembly seat has concluded, with challenger John Salka conceding that incumbent Assemblyman Bill Magee won the election.

Dies after short battle with cancer
Less than five months after retiring as superintendent of the Cazenovia Central School District, Robert S. Dubik last week passed away at the age of 61 after a brief battle with cancer. Dubik "passed away quietly at home with his family by his side," according to his obituary from Thomas J. Pirro Jr. Funeral Home.
Applications will be accepted through Nov. 15 for the pilot year of an annual grant program in Cazenovia. The Common Grounds Challenge Grant will be awarded to one or more organizations that develop and justify a proposal to improve the quality of life in Cazenovia.

The United Community Chest of Cazenovia, Fenner and Nelson awarded $31,200 to 11 nonprofit organizations in 2014 through the generosity of 200 area donors. Grants enabled Madison County residents as young as 3 years old to participate in preschool programs, summer camp, after school activities, job training and recreational therapy.
After months of analysis and public input on how best to redevelop the Riverside Drive/Chittenango Creek area behind the library, the village's hired community planner has presented his findings and recommendations to the village board. In short, accomplishing a solid redevelopment of the area will require probable rezoning, along with a nature trail and public park development plan, Dan Kwasnowski, of Applied Planning, told the board during its Nov. 3 regular monthly meeting.
After making some final adjustments to the numbers and holding a public hearing at which no members of the public spoke, the Cazenovia Town Board last week approved the final version of its 2015 town budget. The final budget includes a $3 million total budget with $1.4 million to be raised by taxes. The proposal includes a 4 percent tax rate increase townwide, with a 1 percent tax rate increase for town residents outside the village.

Seven turnovers doom Caz football three-peat quest
All of the history, tradition and vast success the Cazenovia football team has gained through the decades meant little in the face of a turnover wave that helped deliver Homer its first Section III Class B championship since 2005. Seven different takeaways, five of them in the first half, doomed the Lakers in a 38-24 defeat to the Trojans Sunday afternoon in the Class B title game at the Carrier Dome.