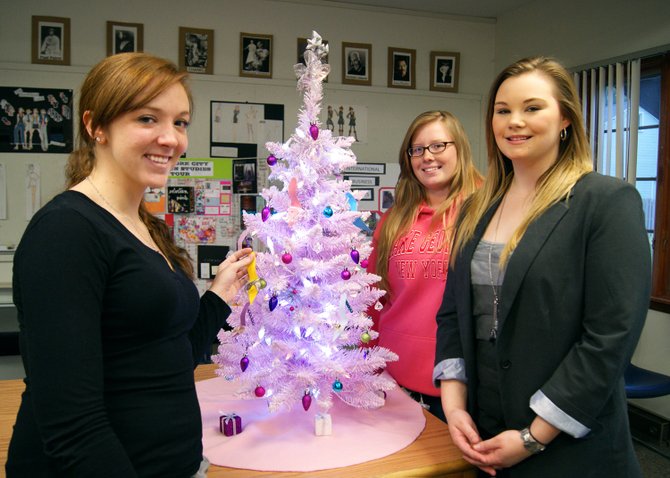 Cazenovia College's Fashion Connection Club says, "We Wish Shoe a Merry Christmas," with a small holiday tree decorated with hand-made shoe ornaments.
Shoe shopping devotees will be able to bid on the tree at the Everson Museum's annual "Festival of Trees," to be held from 10 a.m. to 5 p.m. Dec. 2 through 11, at Shoppingtown Mall.
Emily Travis, a senior fashion merchandising major and co-president of the Fashion Connection Club, along with club members, Lana Lewis, a senior fashion design major; Megan Kim, a freshman fashion merchandising major; Courtney Gaston, a senior fashion merchandising major; Brittany Arnold, a sophomore fashion merchandising major; and Linanyi "Lily" Ortiz, a senior fashion design major, created the shoe ornaments and decorated the tree.
"Karen Steen, professor of fashion design, suggested the theme," Travis said. "She has led the tree decorating for this event in past years."
The Cazenovia Fashion Connection was developed in 2010 by Travis, along with Megan Relyea, a senior fashion merchandising major. The two now serve as the club's co-presidents. Kristina Brousseau, a junior psychology major, is the secretary.
The club is dedicated to providing Cazenovia College students with the opportunity to expand their knowledge of the fashion industry through club activities, field trips, professional contacts and speakers. Students are also given opportunities to build and strengthen professional skills through workshops.
Fashion Connection Club Adviser, Leonilde "Lee" Beals, an associate lecturer in the Art and Design Program, also plays a large role in the club's activities.
"This club allows students to share their interests in fashion, fashion careers, activities that are associated with these careers," Beals said. "It's a place for students with similar interests to share information about internships and portfolio preparation specific to the fashion industry."
For more information about the Festival of Trees, visit everson.org/events/unwrapped.php.
Vote on this Story by clicking on the Icon