Cazenovia — This holiday season, the Cazenovia varsity boys basket ball team has been doing more than just practicing their layups and free throws - they have been busy helping out local organizations and fundraising for the community basketball program.
On Dec. 14, the players donated their time and lent their muscles to CazCares, helping Director Gigi Redmond move heavy boxes of food from high shelves.
"They helped out moving all of the food that will be packed into our Christmas Food Baskets. The items run the gamut - the boys are moving fruits, vegetables, stuffing and gravy. Tomorrow we will have lots of older volunteer that will actually pack the items into the baskets," Redmond said. "The boys have been doing this for two years now and they're definitely a big help, it's a pain in the neck getting the boxes from the higher shelves."
The eleven players, ranging in ages from 15-18, came straight from a practice held after school hours in Buckley Gymnasium and stayed until all the boxes were moved and the baskets were ready to be packed.
"The players organized and planned everything. Joe Romagnoli presented the opportunity to the team, and the kids responded and wanted to make a difference in our community," said Paul Harney, head coach of the Cazenovia varsity boys basketball team. "It's nice when they are able to serve and help the community that they live in."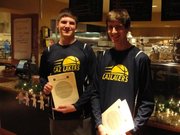 The next night, on Dec. 15, the varsity squad teamed up with the Cazenovia junior varsity and modified basketball players, to host a fundraising dinner at Dave's Diner. The boys spent the evening waiting, serving hungry patrons and athletic supporters, as well as clearing and cleaning their tables.
Owner of Dave's Diner, Bill Tilison, prepared a special menu for the occasion and handled all of the food preparation. Entrees included "Half Court Ribs," "Billy's Philly," "Maple Road Meatloaf," "Full Court Fettuccini," "To The Rim," "Three Point Shot" and "Nacho Mama's Nachos," among others.
(Continued on Next Page)
Prev Next
Vote on this Story by clicking on the Icon