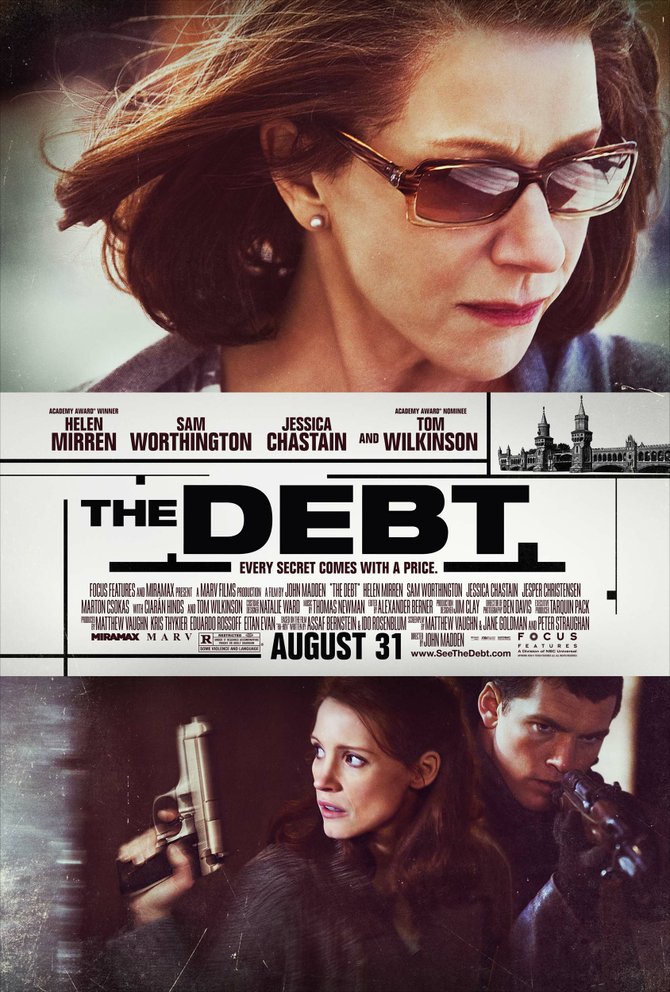 I wish more movies were made like "The Debt," now playing at the Manlius Cinema.
It is tight, suspenseful, and no-nonsense. The story develops quickly, and there are no wasted moments. Random events are portrayed rapidly that leave the audience somewhat breathless and wondering.
There is palpable tension throughout.
It is a play in parallelism, of heroism, lies and intrigue; one part in 1966 (the past); the other in 1997 (the present.) The present and past stories are so effectively interwoven that they become one. The movie centers on three Israeli intelligence operatives.
Of the three, Rachel is the key character, and Jessica Chastain (past) and Helen Mirren (present) are very good in this role.
In 1966, their mission is to capture a Nazi war criminal guilty of heinous crimes. Once captured, their challenge is to get him out of occupied East Berlin, alive, to stand trial in Israel. They pull off this amazing snatch, then fail to escape East Berlin with the prisoner.
Now … what to do with this incredibly evil guy, and how to get out of town? The planning, execution, team relationship, their failure and subsequent action all make for first-rate cinema.
The lives of the three protagonists change considerably as the movie fast forwards to 1997.
Current events become part of the mystery of 1966 and the "debt" of each of these operatives. And, what is the debt?
Was it their familial or national obligation to see justice done capturing the Nazi?
Was it obligation to one another as a team?
Was it obligation to reveal the truth of what actually occurred in East Berlin?
You will enjoy this first-rate movie, and possibly learn the answers.
Jim Wigge is a Cazenovia resident and long-time film-aficionado. After retiring from his career as an engineer, he has shifted his focus to reviewing movies for the Cazenovia Republican. He can be reached through the editor, at editor@cazenoviarepublican.com.
Vote on this Story by clicking on the Icon