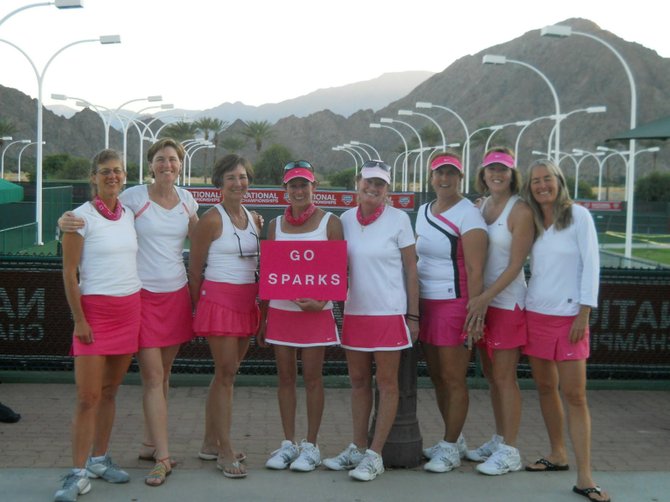 The Indian Wells Tennis Garden, in Indian Wells, Calif., was the setting for the 2011 USTA Women's 3.0 Senior Nationals Tennis Championship from Oct. 28 to 30.
A local team, know as the "Sparks," based out of Eastside Racquet Club, traveled to Indian Wells for this tournament and an exciting two days of competitive tennis. The team won three of their four matches, earning second place in their flight, and overall placing sixth in the nation.
Their only loss of the tournament went to the team from Mid-Atlantic (Virginia) who dominated the field and eventually took the title of National Champions.
The story of how they got there, began two years ago at Eastside Racquet Club with a dedicated group of players. Coming off a successful inaugural season, their 2011 season had them winning at both Districts and Sectionals. Their victory in September against teams from Northern New York state, Southern New York, Metro New York, Long Island and New Jersey, led to the coveted spot on the National Championship roster.
Fourteen other teams from across the country, joined this local Eastside team which hails from both Cazenovia and the larger Syracuse area.
Locals include Bodhi Borer, Maureen Hays-Mitchell, Cindy Underriner, Ann Zinsmeister and coach — Gyata Stormon. Other team members who live in the greater Syracuse area and competed at Sectionals and Nationals include Sheila Coughlin, Mary Cawley-Oliver, Ruth Sikora, and Luanne Wilde. Three other teammates were instrumental in helping the team earn the berth in the Nationals for the team and they are Julie Concilla, Catherine McDonough, and Mary Ann Riehlman.
As with any amazing accomplishment, there were many miracles and sacrifices along the way: Hays-Mitchell juggled the demands of editing and publishing a textbook called Cities of the World with practice and competition, Cawley-Oliver, a recently retired P.E. teacher and relative newcomer to tennis, set out to improve her game by hitting every day against the school wall; Coughlin, determined to enhance her game despite a breast cancer diagnosis last fall, regularly came to the team's Friday afternoon practice after her chemo treatment; Underriner, unable to fly due to a medical issue, drove 6,000 miles to and from California with her steadfast husband Larry (their adventure is shared on gothelmaandlewis.blogspot.com).
(Continued on Next Page)
Prev Next
Vote on this Story by clicking on the Icon