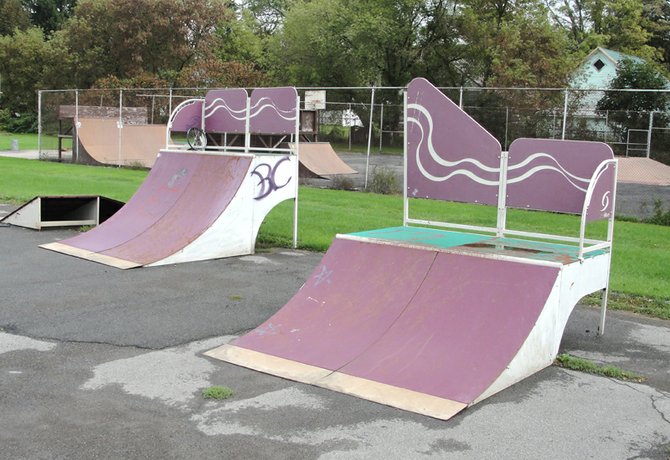 Cazenovia — The Village of Cazenovia recently agreed to lend some of its unused skatepark equipment to the nearby Madison County municipality of Earlville. The agreement, which will last for one year, allows the village Earlville to use five pieces of equipment, as long as they maintain the ramps and return them in good condition.
"I think it benefits Cazenovia, in the fact that the equipment will be taken care of, refinished and actually be put to use. It benefits [Earlville] in the fact that we can offer residents additional ramps, at no cost to the village," said Earlville Mayor Mark Doeberl. "Our village is extremely grateful to the village of Cazenovia for the intermunicipal agreement. If they need anything in the future, I hope they don't hesitate to call."
The equipment was originally purchased back in 2001 after months of fundraising by Cazenovia students and skateboarding enthusiasts. The ramps were then used at the Burton Street Hockey Rink during the summer months. As local interest in the sport had decreased in recent years, the ramps were stored behind the Town of Cazenovia Highway Department on Constine Bridge Road.
Due to weathering and vandalism, the ramps had fallen into cosmetic disrepair. Village Water Superintendent Charles Seager was the first to suggest lending the ramps out to neighboring municipalities and initiatiated contact between the villages of Cazenovia and Earlville. Village Attorney Jim Stokes then drafted a loan agreement, ensuring Cazenovia-based skaters would continue to be able to utilize the equipment at no charge.
Cazenovia Village Trustee Dave Porter, who largely helped to coordinate the exchange, applauded Seager for the concept, and Cazenovia Town Highway Superintendent, Tim Hunt, for the delivery of the five large ramps. "I am pleased that the two villages and the Town of Cazenovia were able to work together and share assets and services," he said. "In general, I think there may be many other opportunities where local municipalities can collaborate to mutually benefit their citizens while keeping costs down."
(Continued on Next Page)
Prev Next
Vote on this Story by clicking on the Icon