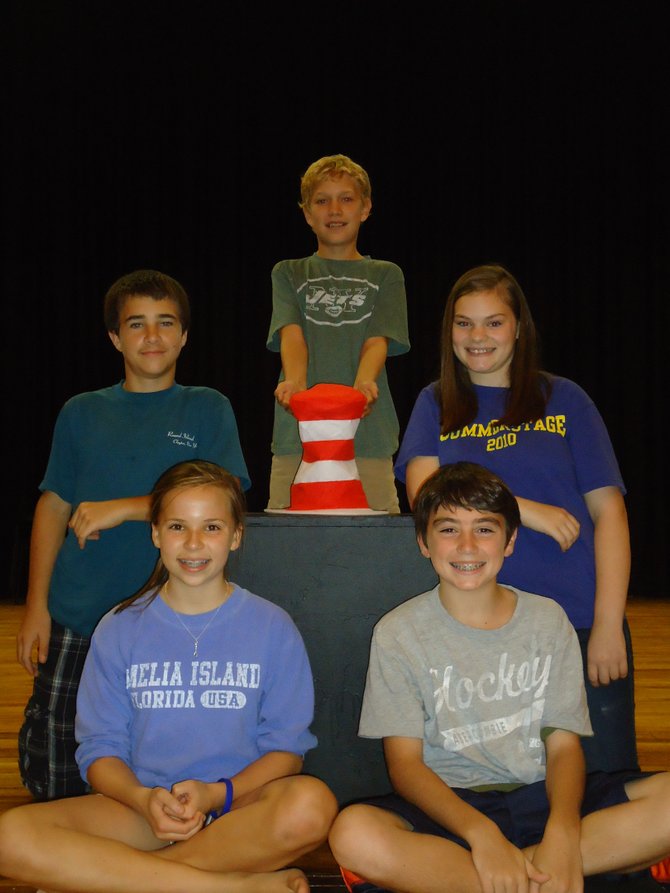 Cazenovia — "Small" has always been "big" in the world of Dr. Seuss, where the battles fought by underdogs, outcasts and freethinkers are championed in squiggly line and rhythmic rhyme. In the numerous children's books and television specials by the good doctor, otherwise known as Theodore Geisel, words of wisdom often come from the tiniest larynxes.
With cheery voices, the Cazenovia Junior High Drama Club presents the engaging little musical "Seussical Jr." Performance dates are 4:30 p.m. Thursday, Nov. 3; 7 p.m. Friday, Nov. 4; and 2 p.m. on Saturday, Nov. 5. Ticket prices for all shows are $5 and can be reserved by calling 655-1324.
The songs do most of the storytelling which weaves together just a few Seuss tales. The troublemaking Cat in the Hat, played by Trevor Nourse, is the guide and narrator through this adventure. Horton the Elephant, portrayed by Tim Kempton, and a little boy JoJo, played by Zack Maxwell, are both made to "feel alone in the universe" and cling to their beliefs in the face of stern opposition.

Horton is mocked for his strange conviction that a dust speck is populated by a village of little people (Dan McKillop, Mimi Gabor), and later faces more ridicule when he agrees to help hatch an egg abandoned by the flighty party-girl Mayzie La Bird (Julia Wilson).
The only real allies that Horton has are JoJo and his admirer Gertrude McFuzz, portrayed by Emily Kielbasinski.
Other characters that add laughter, dancing and singing, are The Sour Kangaroo (Lily Hunt), the Wickersham Brothers (Jake Bosworth, Geoff Christensen, John Henry Light-Olsen, Adam Race), the Bird Girls (Anna Barrett, Caeli Carroll, Sophia Carroll, Lucy Connor, Hope Earley, Faith Gara, Katie Hopsicker, Alli Karmis, Siobhan Kiernan, Emily Mahoney, Katie Marshall), the Jungle Animals (Molly Carges, Olivia Catania, Hayden Fassett, Maria Groetz, Megan Henderson, Abigail Hodge, Will Kmetz, Adrien Owens, Joanna Seeley, Taylor Spires, Danielle Tedesco, Delaney Yates) and the Who Colony (Ari Becker, Jillian Britton, McKinley Dennison, Maleigha Ellithorpe, Mackenzie Gregg, Caroline Hudson, Janie Kempf, Sydney Levinson, Elizabeth Riha, Hannah Scanlon and Amelia Wolsey).
Lou Turner is volunteer publicist for the Cazenovia Junior High Drama Club. She can be reached at 655-1324 or lturner@caz.cnyric.org.
Vote on this Story by clicking on the Icon