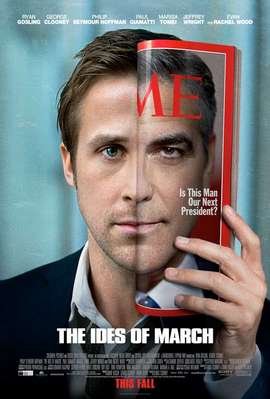 I like George Clooney. He has made fun, fascinating, sometimes thoughtful and absorbing movies.
"The Ides of March" is not one of them.
The fact that Clooney wrote, directed, produced and stars in this movie makes it all the more painful to review.
Clooney's character is a flawed presidential candidate who is surrounded by Philip Seymour-Hoffman and Ryan Gosling as his principal campaign assistants. They all preach a lot about loyalty and integrity, but there is only venality and mendacity in their hearts. Maybe that's Clooney's point - maybe all politics amounts to is yards of hypocrisy and backroom double-dealings.
Or maybe I am cynical.
The movie centers on Clooney's character winning the Ohio Democratic primary. He is handsome, articulate, progressive, the people's choice. He is Clooney.
The real focus is on Seymour-Hoffman and Gosling working his campaign in the background. Seymour-Hoffman is as good as always; he really eats up this role. But Gosling is whiny, out of his element, and mostly just needs a shave.
Then … there is the campaign crisis. Amidst all of the earnestness, perceived tension, and way too many close-ups, we learn that the candidate has deeply compromised a young intern. This is supposed to be "news," as though all Americans aren't already hardened to the fact that politicians bed down pretty young, blonde interns.
It is all so contrived and predictable. Really, the movie is just way overwrought, and kind of silly.
Don't see this movie.
If you want to see a good movie about a presidential campaign with equal doses of political intrigue, humor, amorality, heartrending tension, and great acting, check out Mike Nichols' "Primary Colors."
Jim Wigge is a Cazenovia resident and long-time film-aficionado. After retiring from his career as an engineer, he has shifted his focus to reviewing movies for the Cazenovia Republican. He can be reached through the editor, at editor@cazenoviarepublican.com.
Vote on this Story by clicking on the Icon