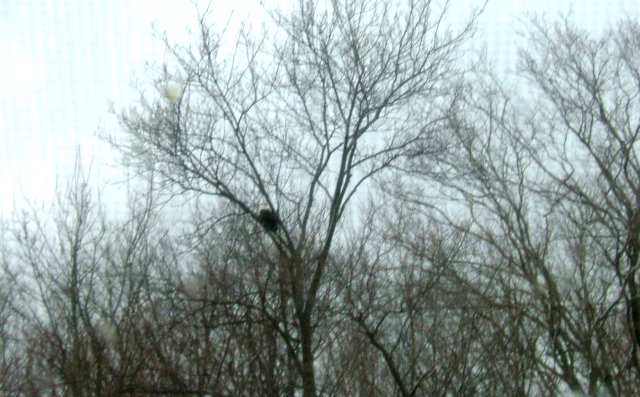 Cazenovia Preservation Foundation's Burlingame Road Trail has recently turned into nature's "I Spy" game.
Last year, CPF staff received calls and emails from members who spotted a bobcat in the area. Early this February, by a CPF member spotted a bald eagle that was in a tree at the Atwell's Knoll area of the Burlingame Road trail system.
This bird was easily identified, and confirmed by a photo, by its brown body set against its striking white head and tail along with a yellow hooked beak. If one is lucky to see it in flight, they will notice its talon feet and their enormous wingspan of six- to seven-feet. CPF staff believes that the eagle used Atwell's Knoll as a resting spot as it migrated back to its nest.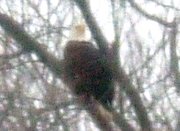 Every year between December until March, eagles start migrating back to their nests, which are located in the same area as they were fledged. Once there, they meet up with their life-long mate to continue working on building their nest.
The reason CPF staff believes the eagle was just passing through is eagles tend to build their nests in tall, white pine tree located near water — Burlingame Road trail doesn't provide the correct habitat for these majestic birds.
CPF members said they hope that this land trust at Burlingame Road provides a safe haven for future eagle migration.
Unfortunately, it's too late to spot an eagle now, but next winter a quick hike out to Burlingame Road trail might result in the spotting of an eagle. Remember - it is a federal offense to harass, disturb or injure a bald eagle.
Without the support, hard work and continued dedication by CPF members, supporters and volunteers, the preservation of the natural resources found throughout the community wouldn't exist. The rewards are provided with new and returning fauna for outdoor lovers.
The Cazenovia Preservation Foundation looks forward to new and exciting discoveries in this coming season. The organization asks residents to visit its website, cazpreservation.org, if they come across something interesting during their outings.
Janet Elliott is publicist for CPF. She can be reached at CPFstaff@verizon.net or through the organization's website, cazpreservation.org.
Vote on this Story by clicking on the Icon