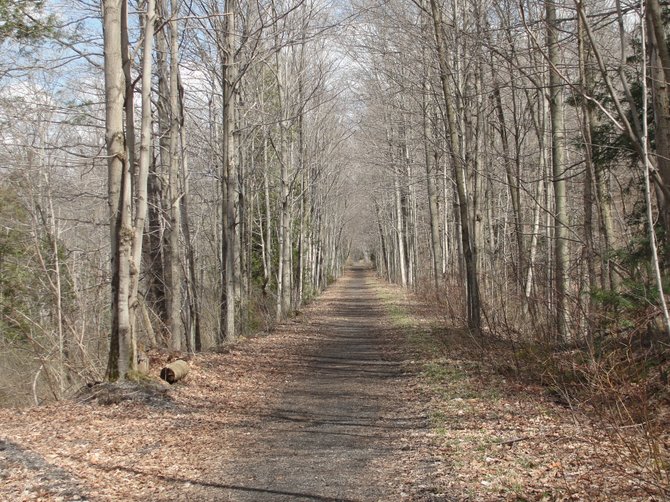 Cazenovia — As spring progresses and the summer season nears, Cazenovia's many hiking trails will no doubt begin to see increased traffic from nature-enthusiasts, near and far.
The Gorge Trail, a non-motorized hiking trail which runs along Chittenango Creek, is a certified portion of the North Country Trail system. Following the clearing of a 1.5-mile stretch of the North Country National Scenic Trail in Canastota this November, the Central New York North Country Trail Association filed a petition under CPLR Article 78 against the New York State Office of Parks, Recreation and Historic Preservation as well as an area snowmobile club, Tri-Valley Trail Riders, Inc.
"NCTA did not receive notice of permit issuance to the Tri-Valley Club to clear-cut the trail. Further, a snowmobile trail is typically six to eight feet in width; the clear-cutting resulted in a swath ranging from 18 to 27 feet by actual measurement," said NCTA Administrative Liaison Albert Larmann, Jr. "The NCTA recognizes that snowmobiling is a major recreation pursuit for many in the northern snow areas, and that it has significant seasonal economic importance to some business operations as well … However, we submit that those within our society who prefer quiet foot travel — be it hiking, snowshoe use, cross-county skiing, bird watching, etc. — should not be disenfranchised by actions such as [clear-cutting portions of trail]."
Larmann said the clearing violated New York State Environmental Quality Review procedures, causing NCTA to take legal action. Calling for enhanced planning and execution, he also said the descriptor "multiple use trails" is misapplied when a designated trail fails to provide safety; and mental and physical satisfaction for all users on an equal basis.
"The NCTA deeply regrets this lost opportunity to support an appropriate planning dialog designed to meet all trail-related needs in Central New York," said Bruce Matthews, executive director of the NCTA. "This unfortunate situation has forced NCTA and Tri-Valley into a competitive stance which could easily have been avoided. Now our group of citizen stewards is being disenfranchised by the very agency with which we've built a foundation of trust and invested thousands of dollars and hours of sweat equity."
(Continued on Next Page)
Prev Next
Vote on this Story by clicking on the Icon