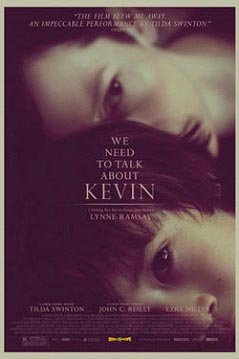 "We Need to Talk About Kevin," playing at the Manlius Art Cinema, is a well-crafted film that is troubling to the bone.
It is a story of "nature vs. nurture" — are we born evil or are we made that way? In this case, Kevin (Ezra Miller) is the evil, conniving malignancy born of Eva (Tilda Swinton) and Franklin (John C. Reilly).
Director and screenwriter Lynne Ramsay makes a convincing case of her antagonist.
It is clear that Eva does not want this baby, and when he comes she keeps him at arm's length. Despite Franklin's greater affection, Kevin develops as a bright, but wholly non-responsive child.
Only as Kevin grows and becomes more physically adept do the darker manifestations ooze out of his personality. Eva is not powerless, but she refuses to exercise a mother's natural influence over her child. The child is in control.
Working from the present — where something dark and terrible has happened — the story progresses through a series of flashbacks over the previous 16 years. We see Kevin as a baby, at ages 5, 10 and in his teen years. He develops into a tall, beautiful, strapping lad, but he is completely amoral. His parental disrespect is outrageous, and terrible accidents begin to occur around the house.
Plus, there is tension and foreboding as he develops his skills as a bowman in his backyard.
Swinton is superb, as always, though Ramsay's message is ambiguous. There is much wrong in this household which you see building through the years to a horrific climax.
Could it have been prevented, is this a social statement, or was this kid just wired wrong from the start?
The movie is gripping and effectively holds your attention, but tragedy offers few answers in the end.
Jim Wigge is a Cazenovia resident and film-aficionado. After retiring from his career as an engineer, he has been reviewing movies for the Cazenovia Republican. He can be reached through the editor, at editor@cazenoviarepublican.com.
Vote on this Story by clicking on the Icon