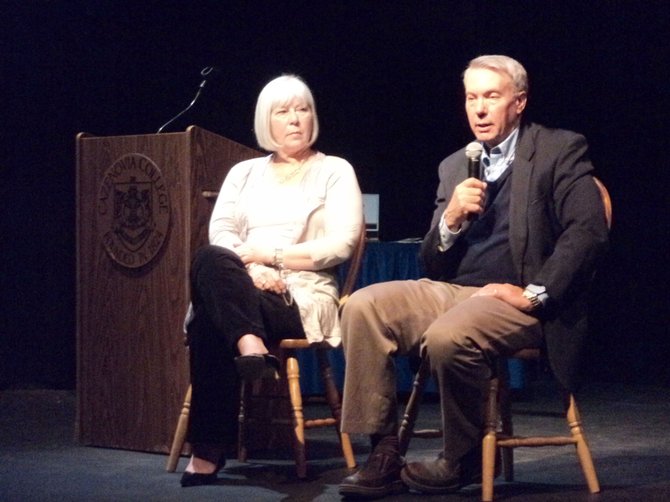 Cazenovia — "It takes all kinds of people to make a world."
That's what David Kaczynski told the audience at the latest Cazenovia Forum lecture about his brother Ted, the infamous "Unabomber" of the 1980s and 90s. Kaczynski gave a compelling and moving account of his realization that his brother was the Unabomber and his painful decision to turn him in.
More than 220 people attended the talk at the Catherine Cummings Theater on March 30.
The moniker "Unabomber" was given to Ted by the Federal Bureau of Investigation after he started mailing and hand-delivering homemade bombs to various companies and people he felt were "evil" for promoting the use of technology. In his 17-year bombing campaign, Ted Kaczynski killed three people and injured 23 others.
David Kaczynski told an intimate story of his journey through this terrible time in a way no news source could get close to giving. Signs of Ted's mental illness were evident even in childhood, Kacynski said, although not recognized by the family.
For one, Ted had a fear of abandonment; their mother told David to never abandon his brother. David always complied, even when he got married, but he said he felt like he was leaving his brother behind.
Ted Kaczynski had a successful academic career until, at age 28, he suddenly moved to Montana and began to live as a recluse, sending David letters that were increasingly delusional, reflecting a growing anger and disengagement. He also sent a long letter to his parents telling them they were bad parents who had neglected him. Family members weren't the only ones receiving strange letters.
In 1995 he started sending letters to former victims and certain media outlets. He outlined his future plans and demanded that his 35,000 word essay "Industrial Society and It's Future" (the FBI called it the "Unabomber's Manifesto") be printed, verbatim, in a major newspaper or journal.
(Continued on Next Page)
Prev Next
Vote on this Story by clicking on the Icon