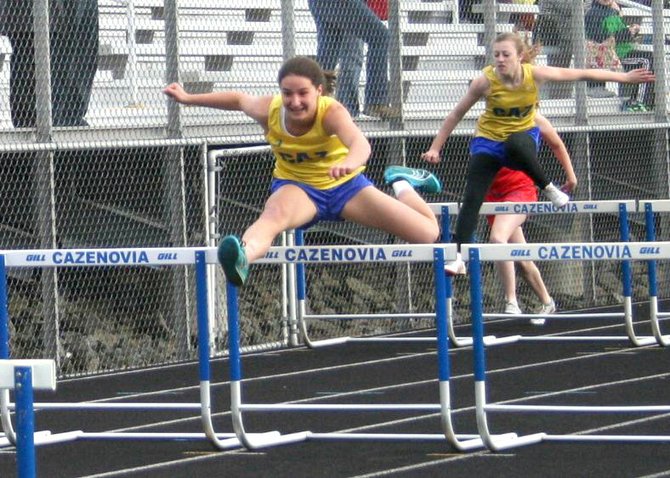 The Cazenovia girls track and field team opened their 2012 campaign the same way they ended 2011; with a win.

The Lakers hosted Class A power East Syracuse-Minoa in a non-league contest on April 3, and came away with a decisive 100-to-41 victory. Seventeen girls scored for Cazenovia as they overwhelmed ESM 74-13 on the track and won 14 of 17 events overall.
The victory extended the girls' winning streak to 19 meets dating back to the 2009 season.
Caroline Marshall led off the meet with a bang for the Lakers as she burst to the front with a 2:26.1 opening leg in the 4x800 meter relay. Teammates Rae Tobey and Tori Wright kept the lead and Jeanette Cudney slammed the door with a 2:31.5 closing leg as Cazenovia won in 10:32.2.
Marshall returned to win the 1500 in 4:55.1, the fastest time by a Laker in 15 years and only nine seconds from a 20 year-old school record. She also won the 800 in 2:31.5.
Michelle Karker backed her up in both events with third place finishes (5:34.6 and 2:46.9).
Cudney claimed an individual victory of her own with her best-ever outdoor time in the 3000 (11:02.5) while Tobey captured second in a personal record time of 11:03.8.
Cazenovia was dominant in the sprints as Ashley Winn led a sweep of the 100 in 12.7 seconds with Jillian Vogl (13.1) and Liz Pittman (13.9) close behind. Winn (26.7) and Vogl (27.5) also went 1-2 in the 200-meter dash and anchored the fastest regular season 4x100 in school history.
Paige Biviano led off and Ashley Kent went second as the team won in 51.5 seconds, just a second from the all-time mark set at states in 2010.
Vogl also ran an amazing 1:00.4 opening leg in the 4x400 (just .4 off her school record) as she teamed with Winn, Karker and Kate Sullivan to ensure a Laker sweep of the relay events.
(Continued on Next Page)
Prev Next
Vote on this Story by clicking on the Icon