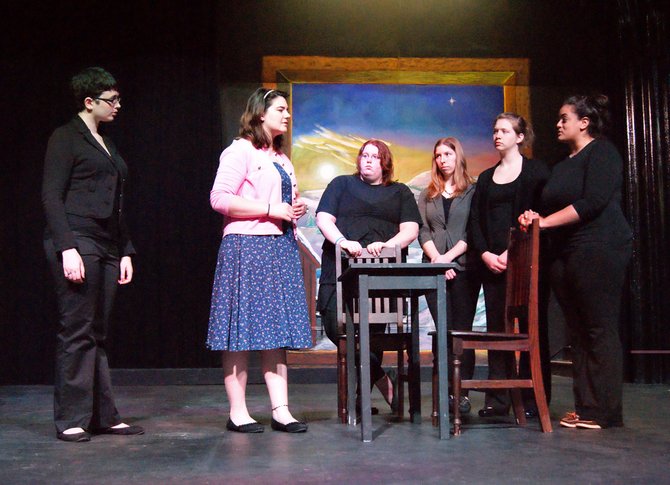 Cazenovia — Near the start of Thornton Wilder's Pulitzer Prize-winning play, "Our Town," newspaper editor Charlie Webb admitted that not much of anything happens in Grover's Corners, NH.
"The people here are a little better-behaved than most," he said. "Perhaps a little duller…There's not much culture."
As a result, such occurrences as the arrival of the milkman, deliveries by the paperboy and the teasing of baseball teammates stand out as some the play's most memorable moments.
Those, and the unabashed thrill Mrs. Soames experiences at weddings.
An earnest cast of more than two dozen players give a reverential reading of Thornton Wilder's Pulitzer Prize-winning play, "Our Town," running through April 22 at the Catherine Cummings Theatre at Cazenovia College.
Directed by artist-in-residence David Lowenstein, the production adheres faithfully to Wilder's insistence on minimalism. The intentional lack of props and scenery keeps the focus squarely on human interaction. In fact, Lowenstein actually augments Wilder's humanism with two daring alterations.
First, he did away with the male stage manager – that meaty role so well-fulfilled by actors such as Bill Holden, Hal Holbrook and Paul Newman – and replaced him with five varied actresses who converse with us casually to set each scene.
Then, with a nod to modern America's increasingly diverse population, Lowenstein cast several actors of color in primary roles. While this choice initially strains the audience's suspension of disbelief, those discomforting reactions fade as soon as the actors show how well they fit their roles.
The two most central characters are the young couple, Emily Webb and George Gibbs, played by Kendra Valliere and Jedai Stevens respectively. Stevens' performance is deep and measured, as his character faces the challenges of household chores, career decisions and a blossoming romance. Valliere's Emily also runs the gamut, from wild-eyed romance to fear of commitment to the resignation of mortality.
(Continued on Next Page)
Prev Next
Vote on this Story by clicking on the Icon