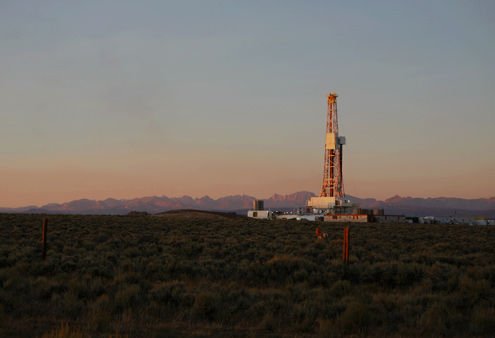 Beneath parts of the Northeastern landscape lies a massive Utica Shale formation. The coal-black sedimentary rock has trapped valuable natural gas under several thousand feet of rock and water.
In Madison County, the Utica Shale is more appealing for gas extraction than its coveted relative Marcellus Shale, which is the primary target for Department of Environmental Conservation regulations and gas drillers in New York state.
Marcellus Shale is too shallow for gas extraction in our area, according to Bruce Selleck, a Colgate University geology professor and hydrogeology specialist. Utica Shale however, is deep enough. Throughout Madison County the Utica Shale formation is located from about 1,000 to 4,000 feet below the surface.
Nevertheless, experts are unsure whether the shale will be productive for gas extraction. The gas-bearing part of the formation is not very thick, ranging from about 40 to 100 feet in width; and experts estimate gas content could be sparse.
"[Utica Shale gas extraction in Cazenovia] is possible, but until somebody drills wells that show there's gas, I'd reserve judgment," Selleck said.
The hotly-contested horizontal hydraulic fracturing technique, known as hydrofracking, is the most probable method for large-scale gas extraction if Utica Shale is proven economically viable.
John Holko, member of the board of directors at the Independent Oil and Gas Association of New York, said that if the DEC lifts the state's moratorium on hydrofracking, drillers will probably hydrofrack in Madison County to see if gas extraction is economically viable here.
"There are a few companies that already have [leases] in Madison County, and you have some landowners who are interested in developing their resources," said Holko.
Within the town of Cazenovia there are 3,570 acres under lease with gas companies. This represents more than 30 leases in 26 different names.
As hydrofracking was implemented across America, there were accusations of water contamination, over-taxation of community infrastructure, increasing greenhouse gas emissions and serious health problems for people residing near wells.
(Continued on Next Page)
Prev Next
Vote on this Story by clicking on the Icon