New York Air National Guard Col. Dawne Deskins, an Air Guardsman since 1995 and a Cazenovia resident, has been selected as the next commander of the Eastern Air Defense Sector (EADS).
The change of command will take place at the Air Force Research Laboratory on Friday, Feb. 17. Deskins will replace retiring Col. John Bartholf, who has led EADS since April 2008.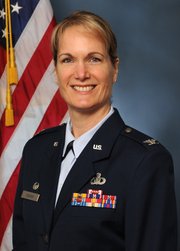 Deskins served as the Vice Commander and Air Guard Commander of EADS for the last four years. She will be the first female commander of the unit.
She currently resides in Cazenovia with her husband, Antonio. The couple has two children, Brittany and Derek.
One of two North American Aerospace Defense Command (NORAD) air defense sectors in the Continental United States, EADS reports directly to First Air Force (Air Forces Northern) and the Continental U.S. NORAD Region (CONR), which are located at Tyndall Air Force Base, Fla.
The unit is responsible for the air defense of approximately 1 million square miles east of the Mississippi River. Because EADS is a New York Air National Guard unit that supports a federal mission, its Commander serves in an active-duty, federal status, while its Vice Commander serves as a New York Air National Guardsmen under state Active Guard and Reserve (AGR) orders.
Deskins is a graduate of Ithaca College and was commissioned as a second lieutenant in the Air Force through the Cornell University ROTC Program in 1984. She attended Air Weapons Controller training at Tyndall Air Force Base and was assigned to the Northwest Air Defense Sector at McCord Air Force Base, Washington from 1988 to 1993.
She has served as a Controller Training instructor and worked as program test director evaluating the Air Weapons Controller Training System.
Since joining the New York Air National Guard in 1995 she has served in a variety of positions including Mission Crew Commander, Flight Commander, Assistant Director, Sector Operations Control Center and Chief, Exercise and Analysis and Deputy Commander, Support. She also has served as a NORAD Battle Commander.
A graduate of the Air War College and Air Command and Staff College, Colonel Deskins holds a masters degree in management from Florida State University.
Her awards include the Meritorious Service Medal, the Air Force Commendation Medal, the Air Force Outstanding Unit Award the Air Force Organizational Excellence Award and the Combat Readiness Medal, as well as the National Defense Service Medal and Global War on Terrorism Medal.
Vote on this Story by clicking on the Icon