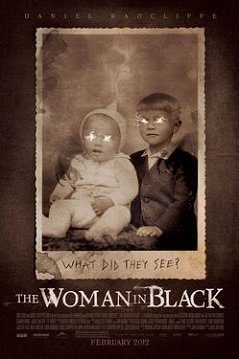 If you enjoy getting startled vertically out of your theatre chair, you should run and see "The Woman in Black." It is the best and kickiest scary movie I have seen in a long time.
Not subtle like "The Others," it goes straight for the jugular. The audience (myself, particularly) became a pack of drooling, stammering, simpering fools within the first ten minutes. It was great fun.
Arthur (Daniel Radcliffe) is a young barrister in the early part of the 20th century, still mourning the loss of his wife who died in childbirth four years earlier. Arthur leaves behind his young son to travel to northeastern England to settle the estate of a former client.
All that remains of the estate is a large, dark, empty house, set on a small island accessible only when the tide is out. There are problems when Arthur arrives: local children have been dying tragically for years, and the villagers do not take well to strangers; they tell him to go home.
Arthur persists, going to the house to research client papers. At the house, there are moving shadows, bumps in the dark, faces in the windows, and a woman shrouded in black watching from afar.
These plot lines — even Arthur's son — are all integrated elements of the mystery.
The story of the dying children is a compelling mystery that progresses nicely. Inherent to the story is the house, the woman in black, and a million geegaws that scare the wits out of you.
There are many telltales, but it doesn't matter because the movie moves along so quickly. The setting 100 years ago adds to the eerie, ghostly environment.
This is not a great movie, but one very well done for its genre.
Jim Wigge is a Cazenovia resident and film-aficionado. After retiring from his career as an engineer, he has been reviewing movies for the Cazenovia Republican. He can be reached through the editor at editor@cazenoviarepublican.com.
Vote on this Story by clicking on the Icon