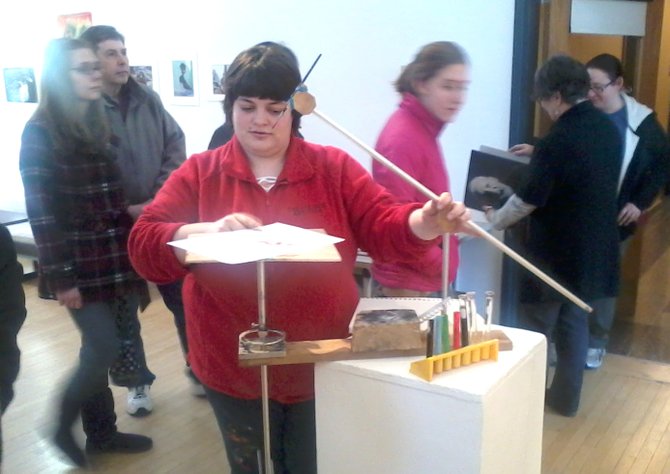 Cazenovia — At 4 p.m. on Monday, Feb. 20, the Cazenovia community was treated to the opening reception of the annual Cazenovia College Student Juried Exhibition.
All students were offered a chance to submit work, about 75 percent of which was accepted, according to Gallery Director Jen Pepper.
The staggering variety of work on display represented four disciplines: interior design, studio art, visual communications and photography.
Also, for the first time ever, the exhibition incorporated film and performance art. All programs were represented except for fashion, with no submissions as a department.
The exhibition runs until March 2.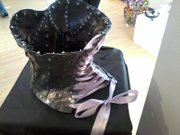 Alyssa Zionic, a junior majoring in studio art, contributed an untitled steampunk-inspired corset — a profusion of metal bolts and overlapping steel plates, with pink ribbon laced in back. The materials listed in its construction are lead, steel and satin.
Brittany Hill, a photography junior, offered "Mental State," a Blurb book and photographic grid consisting of portraiture of various faces assuming different attitudes of anguish, curiosity and other moods. In executing her work, Hill said she relied on Blurb.com, an online company that allows one to send in photographs to have a book printed.
Jon Dain, a visual communications senior, had two pieces in the exhibition. One, entitled "Kokia Flip Phone," was a Maya 3D digital model. The other work was a map based on the world of his fantasy, entitled "New Veleria," a digital print. "Veleria," the world of Dain's creation, began with a role playing game similar to Dungeons and Dragons, he said. Dain's own system took him about four months to design. He is currently working on a board game and will be "keeping it all in the same world," he said.
Sara Buchanan, an interior design student, contributed a piece of furniture entitled "Repurposed Suitcase Chair," made of found materials.

(Continued on Next Page)
Prev Next
Vote on this Story by clicking on the Icon