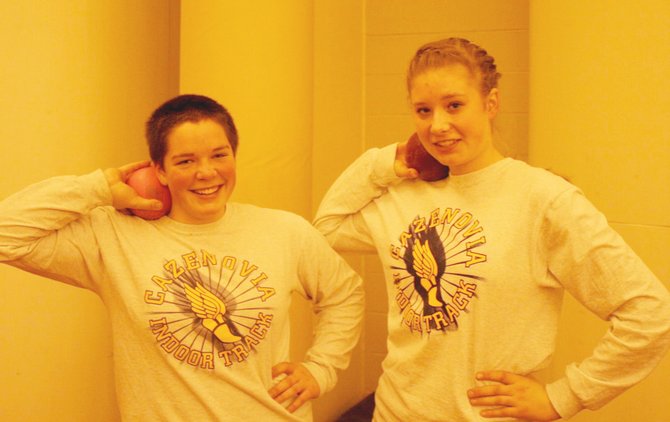 The Cazenovia girls track and field team won their third consecutive Mohawk Valley Indoor Track Association title, Jan 10, at Colgate University. After winning the Division II (small schools) title in 2010 and 2011, the Lakers moved up to Division I for 2012.
Despite being the only Class B school in a field of AA and A programs, the girls came out on top once again, scoring an impressive 209.5 points to outdistance second place Rome Free Academy (148 points).
The Lakers won nine of 16 events and posted silver-medal performances in six of the others to achieve the overwhelming victory. The invitational win was the sixth straight for Cazenovia this season, outscoring a total of 65 opponents during the streak.
Senior Captain Jill Vogl led the Lakers, winning the 300-meter dash and helping both the 4x400 and 4x200 relays to victory. She was joined by Ashley Winn, Megan Stanford and Caroline Marshall in the mile relay to post a 4:19.09, the fastest of the year and just .7 seconds from the school record.
Vogl, Captain Anna Schultz, Jessie Matt and Ashley Kent all ran personal best 200-meter splits to pace the Lakers to a 1:55.21 finish in the 800-meter relay.
Jeanette Cudney improved on her own school record in the 3000 as she won in 11:10.23. She also paced the 4x800 to victory along with Megan Stanford, Rae Tobey and Jeanette Cudney. Senior Captain Caroline Marshall won in the 1500 with a 5:03.19 clocking. Ashley Winn won the 55 dash in 7.57 and placed second in the 300 as the Lakers went eight for ten on the track.
Rae Tobey improved on her best in the 1000 for a third place finish. Margaret Wolsey captured third in the 1500 while Maureen Milmoe (second), Grace Milmoe (fourth) and Marla VanNieuwland (sixth) all placed in the 600. Ashley Kent ran a personal best 47.07 for fourth in the 300 as Cazenovia also dominated that event.
(Continued on Next Page)
Prev Next
Vote on this Story by clicking on the Icon