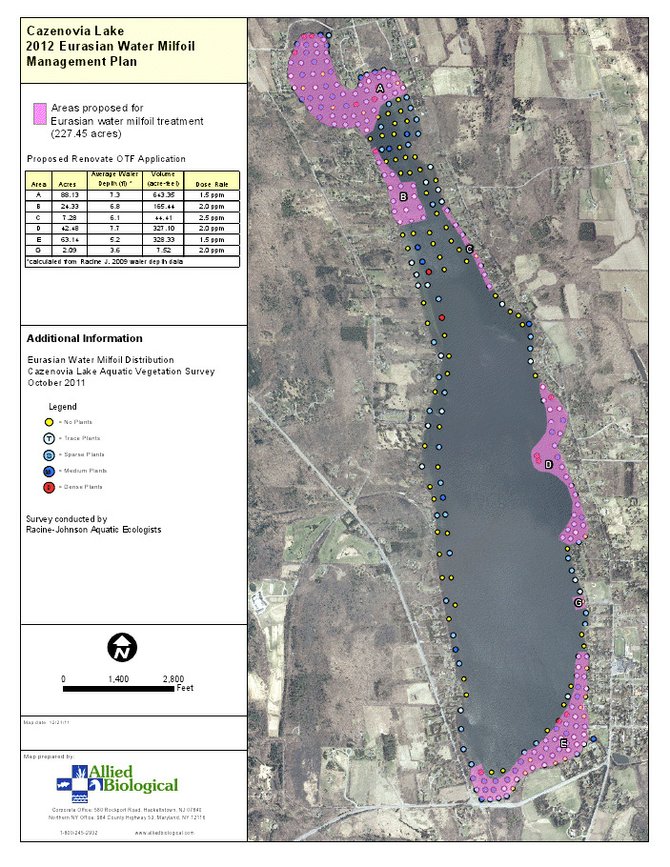 Cazenovia — With the invasive plant Eurasian Milfoil still present in Cazenovia Lake, officials are planning another herbicide treatment this June.
At a special meeting on Jan. 23, the town board unanimously passed a "Draft Scope" of issues that will be considered before the lake is treated.
The public is welcome to submit comments or suggestions regarding potential impacts from herbicide treatment. The "Draft Scope" can be accessed online or obtained at 7 Albany St.
Town councilors expect to receive comments mainly from involved agencies like the New York State Department of Environmental Conservation and the Cazenovia Lake Association.
The comment period for this phase of the project will close on Feb. 13, and the final Supplemental Environmental Impact Statement should be released in March.
The town board plans to use the 2009 and 2010 SEIS processes to guide the '12 treatment. The newest environmental statement will be updated to include well water testing from Owera Point.
Town Councilor Liz Moran, who is the town's watershed liaison, said a lot was learned from previous lake treatment experiences and the town has many volunteers to help with the milfoil treatment process.
"We had great success in 2009 and 2010, and I think that has really helped [increase] community support [for] the effort," Moran said.
The Trichlopyr based herbicide, brand name "Renovate," applied for the last two treatments is planned for use in the 2012 milfoil treatment too.
The intended dose rate of Trichlopyr, at maximum 2.5 parts per million, is far below levels known to negatively affect fish, mammals and birds.
With regard to affecting humans, Trichlopyr concentration in treated drinking water is deemed unsafe at levels greater than 2.5 ppm, which the intended dose rate does not exceed.
Herbicide levels from the lake's last two treatments should not build up in scale because Trichlopyr degrades rapidly from photolysis, which is light-stimulated chemical decomposition.
(Continued on Next Page)
Prev Next
Vote on this Story by clicking on the Icon