Upstate University Hospital Chief Executive Officer John McCabe, MD, was recently named one of the nation's top 100 physician leaders of hospitals and health systems by Becker's Hospital Review.

McCabe's inclusion on the list reflects his healthcare experience and his commitment to quality care, according to Becker's.
It's the third time McCabe has been recognized by Becker's in the past 18 months.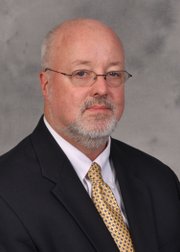 Last year, McCabe appeared on two separate Becker's listings of top health system and hospital leaders. McCabe's selection is noted in Becker's Hospital Review. This past year, McCabe oversaw Upstate's acquisition of Community General Hospital, creating the largest hospital in Syracuse. Since the opening last July, Upstate has introduced new services, including an epilepsy monitoring service, bariatric surgery and pediatric after hours care.
McCabe has provided leadership for the launch earlier this year of an electronic medical record system, "MyChart," that enables Upstate's outpatients to access their medical records through their smart phones, tablets and home computers.
In the past year, Upstate has been honored numerous times for its quality, including its second consecutive Gold Plus award for stroke care; Health Grades designations for various services, including bariatric surgery, neurosurgery, neurosciences, stroke care; designation as an Accredited Chest Pain Center; and recipient of the Excellus BlueCross BlueShield Hospital Performance Incentive Program.
Upstate is the only hospital in the Syracuse metro region to be named to U.S. News & World Report's 2011-12 Best Hospital rankings. U.S. News also recognized Upstate for its care in various specialty areas, including kidney disorders, urology and cancer.
Other highlights of his 23-year career at Upstate include the development of an Emergency Medicine residency training program, overseeing the opening and transition of patients into the Upstate University Hospital's East Tower and Upstate Golisano Children's Hospital, the development and opening of a mass casualty unit and upgraded infirmary at the New York State Fairgrounds, the development of an emergency medicine simulation center for training medical residents and the expansion of the hospital's emergency room.
McCabe's national leadership positions include service as chair of the board of directors of the American Board of Medical Specialties, the organization that oversees the certification of physician specialists in the United States.
In addition to his role as hospital CEO, McCabe serves as senior vice president for hospital affairs at Upstate Medical University. McCabe resides in Cazenovia.
Vote on this Story by clicking on the Icon