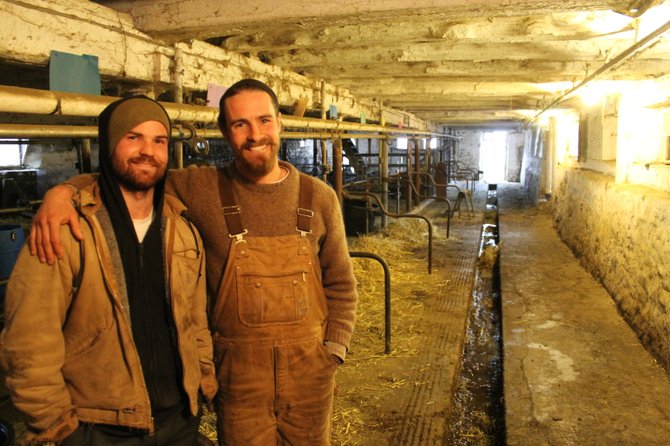 Cazenovia — Got raw milk? Greyrock Farm CSA in Cazenovia does.
Owner Matthew Volz began selling unpasteurized, unhomogenized milk on East Lake Road almost two years ago, hand-milking his one Brown Swiss cow named Minnie.
Now he's up to eight dairy cows, four of which are currently being milked.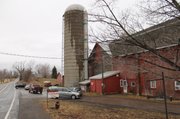 Volz said his customer base has grown so much that it's difficult to keep up with demand, and his Community Supported Agriculture program, which supplies members weekly with fresh, local food, is now up to 40 individuals.
The program's popularity is due, in part, to the connection people make with the farm, said Volz, who encourages potential customers to visit.
Volz got his first taste of fresh milk as a college student while working on a farm in Essex, N.Y. He was hooked, describing the flavor as way different and much better than pasteurized milk. Greyrock customer and Caz resident April Hawthorne agrees.
"The milk has the cleanest taste of any milk I've ever had," Hawthorne said. "It needs to be shaken a little before pouring, because of the cream on top, but it's beautiful and white. The kids love it, and we've really enjoyed seeing where the milk comes from."
For Michele Hettler, who lives with Crohn's Disease, an inflammatory bowel disorder, the advantages of drinking raw milk go beyond flavor – it's easier to digest than store-bought milk.
"I found I was not able to tolerate pasteurized milk well with my Crohn's and do tolerate the raw milk," the Baldwinsville resident said. She attributes it to the lack of preservatives.
While the FDA campaigns against the consumption of raw milk due to potential health risks, proponents will argue its safety and benefits over store-bought milk.
Volz recommends anyone interested in learning about or trying fresh milk should first talk to the farmer about conditions and details.
(Continued on Next Page)
Prev Next
Vote on this Story by clicking on the Icon