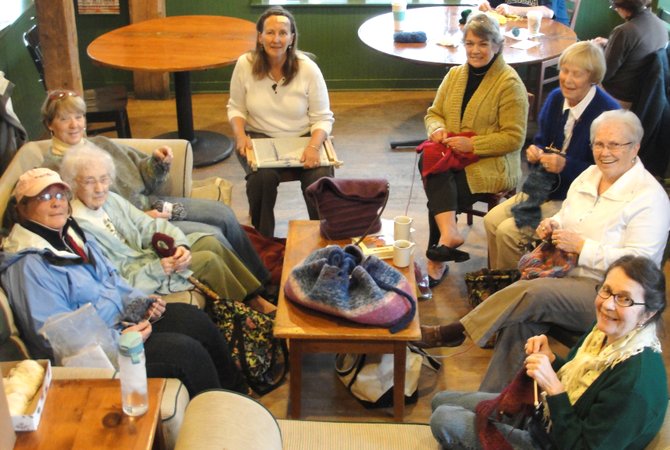 Cazenovia — The Project Café after-school program at Common Grounds recently received a financial boost from a local knitting club.
The group of women, ranging in ages from 40 to 85, dipped into their own pockets and donated about $80. Matt LeBlanc, head coordinator of the after-school program, accepted the donation on Monday, March 12. Common Grounds is opened to high school students every day
"It feels good to get these donations. I think it's very important to put money into the kids, just like we do for fixing roads and everything else. Its an investment in the future. There aren't many communities that do that, so it makes Cazenovia special," LeBlanc said. "[The knitting club] said they appreciate using the space and hope that people will … know that the space is available and donate money towards its operation, because it's a valuable asset to the community"
Project Café's after-school program runs from 3 to 6 p.m. every weekday and hosts about 30 students on average. LeBlanc said the funds will be put towards maintenance of the space and the program's annual end-of-the-year party. Daily activities include ping pong, chess and guitar, as well as sports and the occasional bocce match, when weather allows.
The knitting club meets from 10 a.m. to noon every Tuesday at Common Grounds, and last month the members collectively decided they would each pitch in funds to donate to the venue that hosts them.
"It's good for the kids, and it's good for us," said knitting club member Olga Diefendorf. "It's a public area. We love to see people coming and going, and have conversations here. It's fun. We are so appreciative; we thought we should give back."
"Every little bit helps," added Cathy Travis
While the group is composed of 16 area women, they say men are more than welcome to join in any Tuesday morning. Having originally formed in Manlius, the group slowly migrated to Common Grounds in Cazenovia. Many members live in the area, and others travel from Fayetteville and DeWitt to partake.
(Continued on Next Page)
Prev Next
Vote on this Story by clicking on the Icon