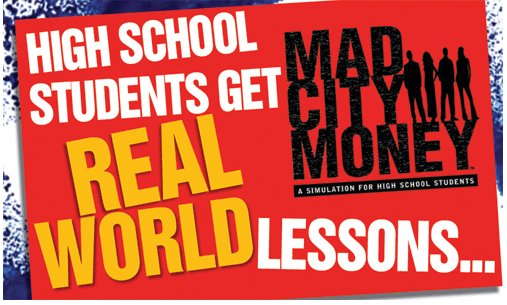 Cazenovia — Most teenagers don't have a firm grasp on upcoming financial realities of buying a home, raising a family, planning for a sound financial future and dealing with unexpected expenses.
To help reverse this trend, Chittenango and Cazenovia school officials and local credit union representatives will host "Mad City Money," a fun and informative financial simulation that allows young people to take on the role of an adult in futuristic Mad City, where they will get real world "financial reality check" complete with: occupation, salary, spouse and/or children, student loan debt, credit card debt as well as auto and medical insurance payments.
Endorsed by the Credit Union National Association, the Mad City Money event is set to take place from 9 to 11:30 a.m. Tuesday, March 27, in the Cazenovia High School Auxiliary Gymnasium.
Each of the 50 high school seniors will build a monthly budget based on income, identify and experience the consequences of poor financial decisions and develop improved spending habits. Along the way, they'll visit nine Mad City merchants to gain hands-on experience in purchasing housing, transportation, food, day care.
Participants will use debit cards for their purchases and must balance both their debit card registers and their budgets.
Mad City also has a credit union office where participants can stop in for guidance with their financial budgeting. "Most young people are surprised to find out they may not be able to afford a big house and a new car when they get their first job," said Amber Bullard, Focal Point's Syracuse-area business development representative, who along with Thom Dellwo of Syracuse Cooperative FCU will be offering students financial assistance and advice designed to get them thinking about their own future.
To keep things interesting, Bullard and FocalPoint's Canandaigua Branch Manager Kate Czarnecki will also act as "The Fickle Finger of Fate" by randomly visiting each participant during the simulation to distribute unexpected windfalls and unplanned expenses. "It's all about helping young people gain the knowledge and confidence they will need to take responsibility for themselves and their family in the future," Bullard said. "The first step is understanding that budgeting is necessary to good money management and the key to their future financial stability."
FocalPoint Federal Credit Union is a full-service, not-for-profit financial institution which as has committed itself to serving members from its partner companies since 1957. Headquartered in Syracuse, FocalPoint has branches in both Chittenango and Canandaigua.
For additional information, call 463-8333 or visit focalpointfcu.com.
Vote on this Story by clicking on the Icon