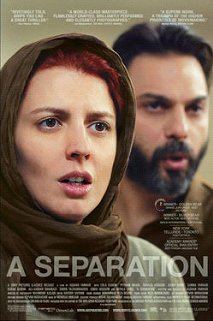 "A Separation," now playing at the Manlius Art Cinema, is a powerful, thoughtful domestic drama that has the significant perspective of contemporary Tehran.
There may be nothing "contemporary" about life in a patriarchal and fundamentally religious country, but there remains in Iran a strain of western thought and action – the judicial system; women's rights; education; family structure - that provides a basis for real conflict.
At the center of the story is a family – working husband (Nader), wife (Simin), adolescent daughter (Termeh) and an ailing grandfather. The conflict begins with Simin's desire to leave the country. Nader will not consider it – he has to remain to care for his father with Alzheimer's. Simin's recourse is to sue for divorce.
Simin leaves for her mother's house, though not the country as she wishes. Termeh remains with her father. Turmoil and pathos ensue.
The story introduces a housekeeper, who comes in the absence of Simin to care for the grandfather; she comes without the knowledge (and permission) of her husband. The housekeeper is a critical bridge in the story, one that ends up in an emotional and tense battle in front of a magistrate, a judicial proceeding unlike any you may ever witness.
The issues presented in this strange and teeming environment – divorce; adolescent angst; single-parent struggles with aging family members; fundamentalist religious laws involving male-female issues; murder as it applies to miscarriage; unemployment and debt – are almost overwhelming. The scenes come at the audience in an unrelenting pace; the tension is palpable. While ultimately ambiguous and frustrating, the film demonstrates that family pain is universal.
"A Separation" won the Academy Award for best foreign language film. It deserved the award, in my opinion, and is well worth seeing.
Jim Wigge is a Cazenovia resident and film-aficionado. After retiring from his career as an engineer, he has been reviewing movies for the Cazenovia Republican. He can be reached through the editor, at editor@cazenoviarepublican.com.
Vote on this Story by clicking on the Icon