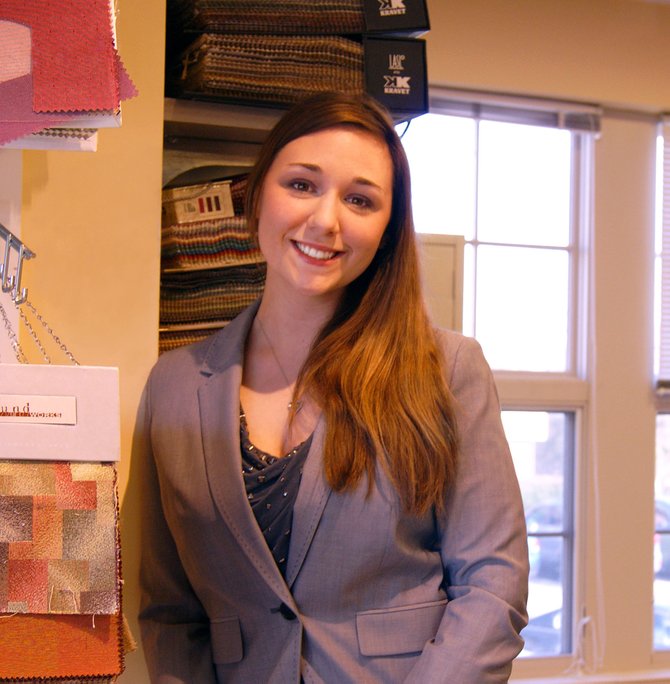 Cazenovia — Cassandra J. LaPorte, of Hadlyme, Conn., recently had an unexpected opportunity to work on a design challenge for HGTV's "Showhouse Showdown."
LaPorte, an interior design major at Cazenovia College, interned for CJ Interior Design Studio in Pittsburgh, Pa., in the summer of 2011, at the same time the company's owner, Christine Jones, took on the Showhouse Showdown challenge.
The show's premise is for two designers to design and furnish similar houses in a new development. The house with which LaPorte assisted in Oakmont, Penn., will be featured on HGTV at 2:30 p.m. on Saturday, March 31, and 1:30 p.m. Friday, April 6.
"The concept was to create a modern/transitional look throughout the house," LaPorte said. "It was tough because the budget was limited for the amount of space. The biggest challenge during this process was time management. There was a lot that needed to get done, and we needed to make sure we didn't neglect the other projects we were working on."
LaPorte, Jones and another intern had just four weeks to complete the project, including drawing up the floor plans, completing the renderings and choosing materials, colors and furnishings.
LaPorte noted that in the real world, the design and the time it takes to complete depends largely on the client.
"Some clients know what they want and will make up their minds in a matter of a few hours," she said. "Other clients have a harder time deciding on what they like, so they could keep things going for well over a year. A good designer just needs to know how to listen to what the client wants, and be willing to go back and keep working to achieve the look the client wants."
LaPorte's renderings of Jones' designs were shown to the contractor at the end of the second week, and then the team gathered the materials and furnishings and completed the job.
Once the houses were done, area residents were asked to rate the homes.
Final results of the challenge will be announced on the April 6 show.
"Christine is great at putting a 'wow factor' in every room, and I think the people who came in really appreciated that," LaPorte said. "I am really looking forward to seeing the show on March 31 and the outcome of people's rankings on April 6."
More information on the episode can be found at hgtv.com/showhouse-showdown/oakmont-pennsylvania-showdown-the-fire-and-water-wall-vs-the-wall-of-mirrors/index.html.
Vote on this Story by clicking on the Icon