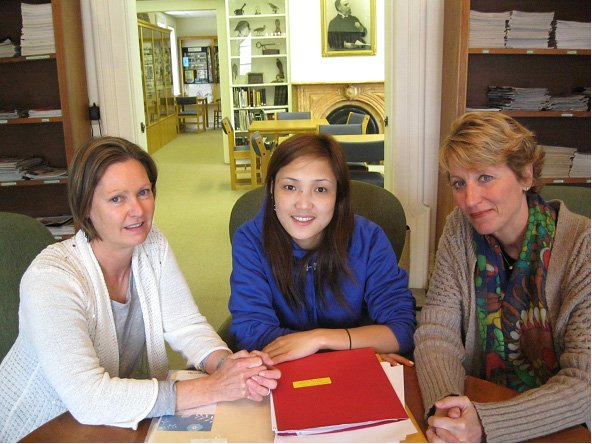 Cazenovia — Esther Tial was barely a teenager when she escaped from her small village in war-torn Burma in 2004.
Children in Chin villages were being taken from their homes and virtually enslaved by Burmese soldiers, who forced young boys and girls to carry gear and serve them. This brutality still goes on today according to Tial, who says the soldiers use young children as human shields as they patrol the Chin region.
After a harrowing journey through Thailand, 14-year-old Tial arrived in Malaysia, where she lived for three years with other Chin refugees. Through the sponsorship of the UN and local Central New York agencies, she eventually found a safe haven in the small rural village of Cazenovia, where she's lived for the past two years with a host family.

"Many people have helped me, and I am so grateful to them," said Tial.
Tial attends an adult literacy program at Cazenovia Public Library that provides her with a combined tutoring program in English as a Second Language (ESL) and preparation for the GED (high school equivalency) exam.

Hardworking and determined, Esther works long hours at a local restaurant, and keeps in close contact with other Chin Burmese refugees in the CNY area. As she balances work and study, her goal is to receive her GED as well as complete training as a certified nursing assistant.
Like other small towns in Central New York, Cazenovia has seen an influx of refugees and immigrants. Cazenovia Public Library Literacy Coordinators Cindy McCall and Carla Zimmerman have been working with Syracuse-based ProLiteracy to meet the challenges presented by new learners from diverse backgrounds.
In February, ProLiteracy offered a free training workshop in Chittenango for Madison County literacy tutors, organized by Zimmerman. The workshop, run by Mark Cass and Kofi Adai of ProLiteracy, was aimed at helping tutors develop cultural awareness skills as well as specific teaching strategies for better instruction in library literacy programs.
(Continued on Next Page)
Prev Next
Vote on this Story by clicking on the Icon