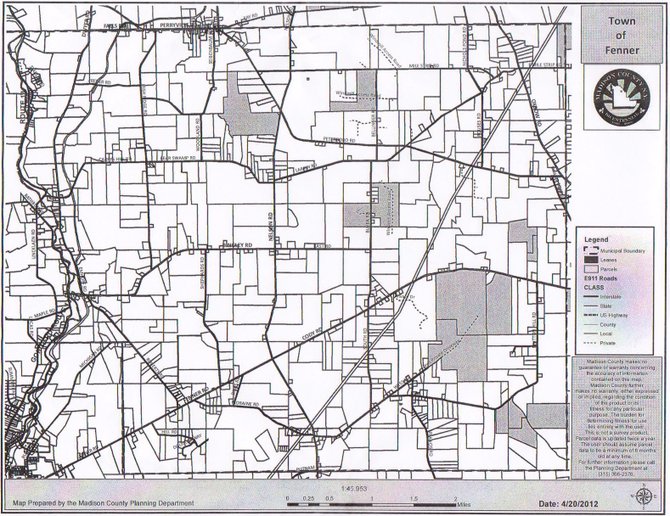 About 125 people crowded the Fenner town offices May 1 for a meeting on hydrofracking. Sponsored by the Fenner Neighbors Group, attendees spilled out into the parking lot as they listened to two speakers on the issue.
Retired New York State Trooper Bill Fischer, who lived in Brackney, Pennsylvania, just south of the New York border near Binghamton, spoke strongly of his opposition to hydrofracking.
"It isn't just the ground that gets fractured in this situation, it's the society that does," Fischer said.
Sharing his personal experience as a landowner near active hydrofracking, Fischer explained the years of research he has done on the subject, citing many downfalls. His presentation included pictures of polluted land and water, water that is unable to be ingested or bathed in, and stories of people who have become sick since hydrofracking took place in their communities.
"There's a freight train coming at you, and you're on the tracks," Fischer said.
Proponents of hydrofracking champion jobs and growth in the local economy, less dependence on foreign oil, and the environmental benefits of using natural gas because it is the cleanest of fossil fuels.
Hydrofracking supporters note that the small percentage of problems with the process are far outweighed by the benefits.
Compulsory Integration
Ken Holden, an attorney who lives in Fenner, explained the use of compulsory integration, in which property owner consent is not necessary for hydrofracking to take place on their land. Holden explained that well spacing units — the subterranean target formation or footprint for hydrofracking — can be anywhere from 60 to 360 or more acres.
If a hydrofracking company owns 60 percent of a well spacing unit, they can conduct hydrofracking on that unit without property owner consent.
Holden further detailed compulsory integration, noting the three options available to property owners: royalty owner, participating owner, and non-participating owner.
(Continued on Next Page)
Prev Next
Vote on this Story by clicking on the Icon