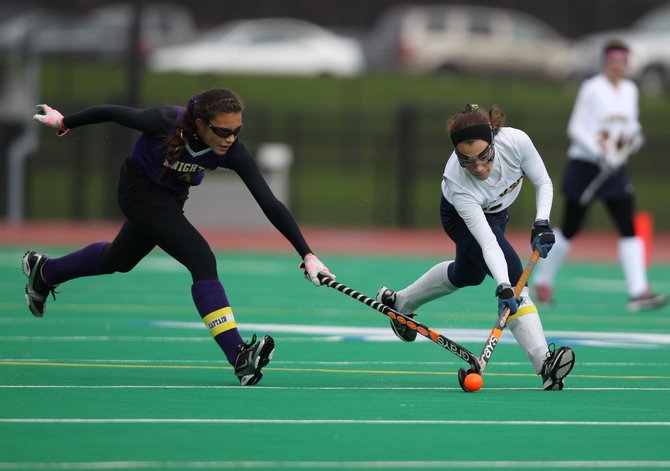 Cicero — Many remarkable streaks remain intact for the Cazenovia field hockey team, in fast pursuit of a third consecutive state Class C championship.
The Lakers won its seventh successive Section III Class C field hockey championship Saturday afternoon with a 2-0 triumph over Holland-Patent at Cicero-North Syracuse High School.
Nicole Chiarello and Sarah Willard scored early goals, and the Lakers defense swallowed up every Golden Knights attack to earn Cazenovia, who owns a 39-game win streak, a berth in Tuesday's state tournament play-in game against Class D champion New York Mills at Rome Free Academy Stadium.
The Lakers earned yet another play-in berth with ease. Cazenovia was stopped from turning Saturday's rout by HP goalie Allison Freiermuth's 14 saves. And when Freiermuth wasn't making kick stops, the Lakers hardly ever let the Golden Knights past midfield.
"I thought we looked good today," Lakers coach Lorraine Scheftic said. "Our passing worked really well. We spread the field out. I thought (HP) looked more tired than we did and we took advantage of it."
Chiarello gave the winners a vital early lead thanks to a perfectly worked penalty corner. Jessy Silfer took the original pass, and instead of shooting, sent a nifty back pass through her legs to Chiarello. The attacker launched a laser shot past Freiermuth at the 3:20 mark.
"That goal of the corner really gave us the advantage," Scheftic said. "That (was) big. Sometimes it takes us a little while to score. Then once we score we start to score more after that. So getting that first one first, in any game, in any sporting contest, I think is big."
Willard's goal came after a penalty corner, though it wasn't as nicely worked as Chiarello's tally. Freirmuth couldn't control a rebound and Willard was the first to it, lifting the ball over the Knights goalie with 11:29 left in the half.
From there it was just a matter of Cazenovia smothering every H-P attack.
"Their defense was so solid," Golden Knights coach Liz Curtis said. "We just weren't adjusting to it off the ball with such tough defense. Their game plan worked and kept us out of our game."
Maggie Carpenter was one of the Lakers defenders doing such a good job. The senior was all smiles in summing up her team's performance.
"I think we played really well as a team," Carpenter said. "We pretty much shut (HP) down altogether."
Vote on this Story by clicking on the Icon