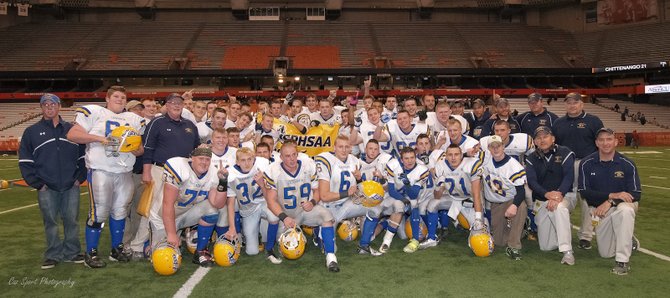 SYRACUSE — After a year's absence, the Section III Class B football crown is returning to Cazenovia.
Better yet for all the Laker faithful, it came at the expense of its neighbors from Chittenango, as Jake Wilson's pair of long fourth-quarter touchdown runs helped to deliver a 35-21 victory over the Bears Saturday night at the Carrier Dome.
"It's always exciting to win the title," said Cazenovia head coach Tom Neidl. "These kids learn a lot from the players that have gone before them, and they want to keep the tradition alive."
This final was two years in the making. Cazenovia and Chittenango had dominated their respective Class B divisions in 2011, too, but the Lakers lost in the semifinals to Oneida, clearing the Bears' path to its first sectional title since 1999.
Then they had eyed each other throughout this season, Chittenango going undefeated and Cazenovia only losing once (to Class A finalist Jamesville-DeWitt), fully expecting a clash for the title.
And they got it, a game that figured to be a fierce battle between two teams with defenses very stingy about allowing points, but didn't go that way from the outset.
After an early exchange of punts, the Lakers slowly gaining better field position until Ryan Cook returned a punt 37 yards to the Bears' three-yard line. Wilson scored two plays later on a three-yard run, only hinting at the bigger plays ahead.
Giving up a TD seemed to wake up Chittenango's offense. Mixing in runs from Devin Phelps and Kyle Zimmer, the Bears moved to the Lakers' 33, from where Phelps threw deep and found Matt Cretaro for a touchdown. Steve Billington's PAT was good, and the defending champs were up 7-6.
Much the same thing happened in the second quarter. Effective runs from Phelps and Cory Benn set up another long pass to another open receiver, in this case Josh Cretaro, as the 29-yard play moved Chittenango inside the Lakers' 10. Three plays later Phelps charged into the end zone on a six-yard bootleg.
(Continued on Next Page)
Prev Next
Vote on this Story by clicking on the Icon