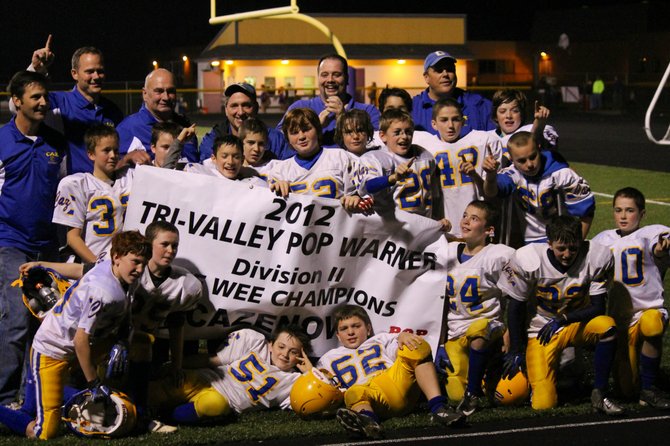 In a game that kept the score 0-0 until the last two minutes the Cazenovia Pop Warner B-Team defeat the Norwich Cyclones 13-12 in double overtime to take home the championship.
The Laker defense, Patrick Nourse, James Pavelchak, Jacob Mcheda, Jacob Wells, Matthew McLaughlin, Tiernan Tormey, Chad Carges, Ian Fostveit, CJ Monroe, Ryan Wozniak, and Ben Knutsen was able to shut down the gifted Cyclone offense with play stopping tackles keeping the game at 0-0 well into the fourth quarter.
The offense with the addition of Casey Cunningham, Andrew Johnson, Logan Proctor, Joseph Riedl, Connor Riedl, and Isaac Senehi worked tirelessly moving the ball up the field. The Lakers were repeatedly stopped just short of the goal line by a tough Cyclone defense.

With just over two minutes in the game Norwich was able to run the ball into end zone for a touch down.
With the score 6-0 and the clock ticking, the Laker spirit never wavered as the offense began their march down the field. With 36 seconds on the clock a perfectly executed pass from Nourse to Macheda tied the score 6-6.
The game in its first overtime remained 6-6 as each team battled to score. As the game went to make Tri-Valley Pop Warner history by entering its second overtime, the Cyclones scored on a run. With the extra point no good; the score was 12-6 when the Lakers offense took possession.
A quarterback keeper touch down tied the score 12-12. With one play to execute for the extra point, a second run by Nourse placed Lakers just over the goal line and sealed the championship title 13-12.
The valiant effort put forth by the Cazenovia Pop Warner B-Team Lakers kept the crowd on their feet and made for a spectacular game.
Vote on this Story by clicking on the Icon