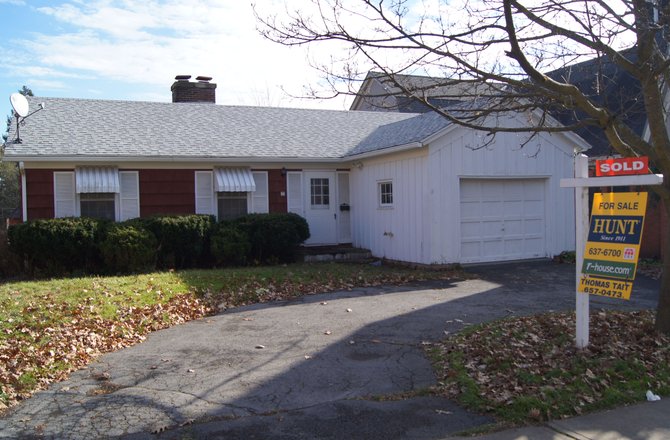 Cazenovia — In a continual effort to appease parking frustrations in the village of the Cazenovia, trustees have begun to plan for the inclusion of a new parking lot between the Catherine Cummings Theater and United States Post Office on Lincklaen Street. On Nov. 8, during a special meeting of the Cazenovia Village Board, trustees unanimously approved a resolution authorizing the purchase of 22 Lincklaen St. for $152,000.
Board members discussed razing the residential structure, which is not protected as a historic property, paving the parcel to include about 24 parking spaces and possibly including a metering system or pay station. The house was recently appraised at $152,000 by James Toole of Toole Appraisals.
"I'm happy with the price. This is such a great opportunity," said Mayor Kurt Wheeler. "I think all of us [village board members] agree that people have talked about parking in Cazenovia for generations. Sometimes you have to bit a little bold to make things happen. This will be a great addition to the village and benefit the greater good."
All trustees were in agreement that the opportunity was too good to pass up, and came about at the right time. Wheeler said that the construction of the parking lot will wait until spring, allowing time for the public to comment and offer suggestions.
"I think this will be very popular," said Trustee Dave Porter.
"It's the perfect spot," said Trustee Jim Joseph.
Village board members then discussed the viability of including a metering system or pay station, as well as a drive-up dropbox for the U.S. Postal Service.
Trustees also talked about possibly holding an estate sale and salvaging materials from the house, or giving away some of the household items to Habitat for Humanity.
All present at the meeting said they were excited to see the project come to fruition, and hope to attract more out-of-town visitors to the many restaurants and shops downtown Cazenovia has to offer.
(Continued on Next Page)
Prev Next
Vote on this Story by clicking on the Icon