Jim Joseph, a Cazenovia Village Trustee and Le Moyne's Executive-in-Residence, was recently named director of the Jesuit Business Case Series and chairman of the advisory board for the Madden School of Business at Le Moyne.
"As envisioned when Jim was named Executive-in-Residence in early 2012, this is the next logical step in establishing more synergy and connection between the business world and the Madden School of Business," said Linda LeMura, Le Moyne's provost and academic vice president. "Jim is deeply engaged in the global business community and his contacts around the world will enable Le Moyne to build a Jesuit mission-inspired case series and an advisory board that will put the Madden School on the map."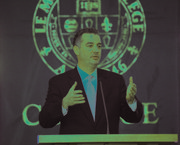 Central to his new role will be the establishment of Le Moyne as the host institution for the Jesuit Business Case Series, an emerging initiative presented by Joseph and Madden Interim Dean David McCallum, S.J., in summer 2012 at the annual meeting of the International Association of Jesuit Business Schools.
Differentiating the Jesuit series from others will be a focus on the ethical and sustainability dimensions of leadership and management.
"By partnering with hundreds of business programs at Jesuit institutions in the U.S. and around the globe, the establishment of the Jesuit Business Case Series at Le Moyne will provide an opportunity for the College to take a leadership role in developing a powerful platform that promotes learning and reflective leadership with a Jesuit perspective," Joseph said. "I would like to thank Dr. Dan Orne for his role in helping to establish the case series here at Le Moyne. It will strategically blend the Jesuit mission, academics and business community into a powerful partnership that will propel the Madden School at the College to a new level of excellence."
As chair of the Madden School Business Advisory Board, Joseph will be tasked with recruiting and working with a group of business leaders that will provide strategic guidance and direction for the ongoing and future development of the Madden School.
Members of the Madden Advisory Board will also be engaged in other activities that will enrich the academic experience for students, such as internships, mentoring, capstone research projects, guest lectures and panel discussions.
A 1983 Le Moyne graduate, Joseph served as president and CEO of Oneida Ltd. from 2006 to 2012. During nearly 25 years at Oneida, he helped build the company into one of the world's largest designers, marketers and distributors of housewares products. Joseph was elected to Everyware, Inc.'s (merger of Oneida Ltd. and Anchor-Hocking) board of directors in February 2012.
Vote on this Story by clicking on the Icon