Cazenovia College's Reisman Lecture Series will present Charlie Cook, editor and publisher of "The Cook Political Report" and columnist for the National Journal, who will deliver the fall 2012 Reisman Lecture at 3:30 p.m. on Wednesday, Nov. 28, in the Catherine Cummings Theatre.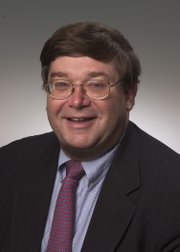 Cook will discuss "The 2012 Elections: What Happened and Why." The lecture is free and open to the public.
In addition to his Reisman Lecture keynote, Cook will join several classes during his day at Cazenovia College, including a first year seminar titled "America Votes."
Cook will also dine and converse with students at an informal lunch gathering that precedes the lecture.
"I applaud the fact that someone of Charlie Cook's stature will be engaged with our students on such a level," said Dr. John Robert Greene, the Paul J. Schupf Professor of History and Humanities and instructor of the America Votes seminar.
In addition to The Cook Political Report and his work for the National Journal Group, Cook writes a regular column for the Washington Quarterly, published by the Center for Strategic and International Studies, and is a political analyst for NBC News.
The New York Times has called Cook, "one of the best political handicappers in the nation," and noted that The Cook Political Report is "a newsletter that both parties regard as authoritative."
Cook received the 2010 Carey McWilliams Award, given annually to honor a major journalistic contribution to the understanding of politics.
The late David Broder wrote in the Washington Post that Cook was "perhaps the best non-partisan tracker of Congressional races," while CBS News' Bob Schieffer called the Cook Political Report, "the bible of the political community." Read Cook's reports at cookpolitical.com
The Reisman Lectures, a three-year-long series to be presented each fall and spring, feature thoughtful discourse on topics surrounding contemporary societal issues, by authors and scholars, leading public figures and experts from business.
The series is funded through a gift from The Dorothy and Marshall M. Reisman Foundation, which also gave $2 million to name the College's Art and Design building Reisman Hall.
Marshall M. Reisman served on the Cazenovia College Board of Trustees, and was active with many other area organizations. He and his wife, Dorothy, were dedicated art collectors and committed to improving the quality of life for Central New York residents.
Vote on this Story by clicking on the Icon