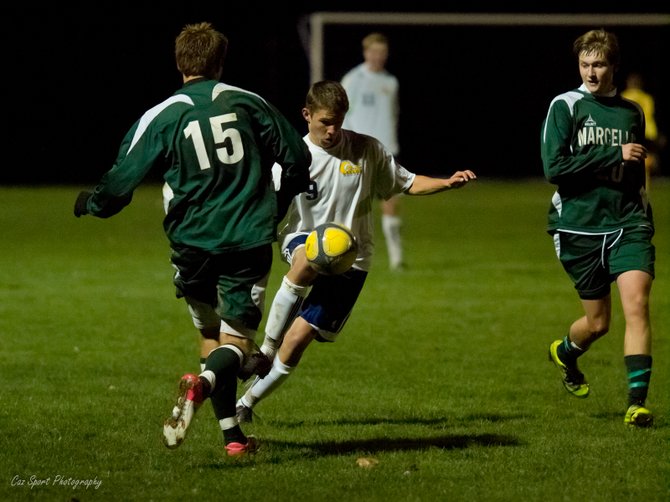 Cazenovia — Another week, another Cazenovia boys soccer game going to overtime – and another victory, but this one carrying major historical implications.
Such was the Lakers' fate in Tuesday night's clash with Marcellus at the Sean Googin Sports Complex, where again Cazenovia was pushed beyond regulation and, once more, responded well and earned a 2-1 victory over the Mustangs.
This one meant a bit more than the others, though, because it clinched, for the Lakers, the outright Onondaga High School League Liberty National division regular-season championship. It's the teams' first league title since 1985, when it was still in the Tri-Valley League.
In the wake of its scare against unbeaten Westhill on Oct. 9 (a 1-0 defeat at home) and a stunning rally to beat Skaneateles 3-2 in OT two nights later, Cazenovia had moved up to the no. 11 spot in the latest state Class B rankings, a sign of further respect for the program.
Now Marcellus, who had seen its top two goalkeepers go down to season-ending injuries and had to pull up JV goalie Harrison Cox to take over, showed up, looking to avenge a 1-0 defeat back on Sept. 20 that also went to overtime before Tyler Modzeleski won it.
As in that first meeting, the two sides played through a 0-0 first half. And much of the second half remained scoreless, too, both sides getting many chances but not converting.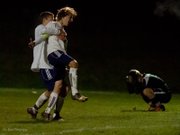 But with 12 minutes left, Marcellus seized a 1-0 lead on Nate Waite's goal, fed by Mark Tompkins. Cazenovia countered when Conor Race (who missed that first game with Marcellus due to injury) broke free on a run to the net and, off a long feed from Evan Cornell, pushed it past Mustang goalie Harrison Cox with six minutes left.
Pushed into OT again and in a situation that would make lesser teams panic, the Lakers stayed calm, built up an attack in the first OT – and won it at the six-minute mark when Race, taking a pass from Modzeleski, slipped a shot past Cox for his second goal of the night.
Lakers goalie Chris Matteson, for the most part, kept Marcellus frustrated and finished with nine saves overall, aided by a defense that refused to let Waite or his Mustang teammates get anything other than that goal late in regulation.
Vote on this Story by clicking on the Icon