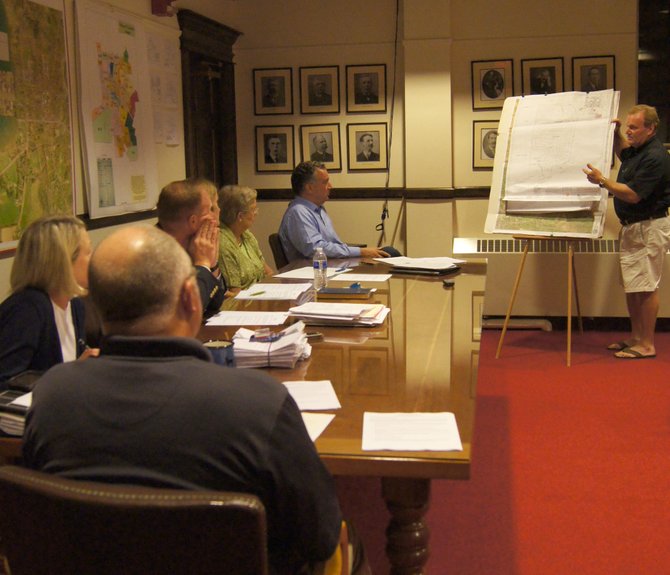 Cazenovia — Residents packed the Cazenovia Municipal Building on Sept. 4 to attend a public hearing regarding a zone change of about 48 acres of village land for former mayor Dennis Gregg's proposed development, "South Meadows," on the easterly side of Number Nine Road.

During the hearing, which preceded the regular Cazenovia Village Board meeting, Gregg, of Gregg Development Corporation, discussed his reasoning for wanting to change the land from R-30 to R-6, and area neighbors offered their thoughts and desires of the future project. No actions were taken by the board, as another public hearing was scheduled for 6:50 p.m. on Oct. 1 before the next village board meeting.
"When the land was annexed in seven years ago … it then became very apparent to me as time went on, the true need in the community was for 'right-priced' housing," Gregg said. "I've asked for R-6 zoning because it allows for 100 feet of depth, as opposed to 125 feet for R-10. This plan is no different from my initial application; it has the same open space area that will be dedicated to the village and another wooded area that will be conserved in its entirety. The intent was not to ask for R-6 so that I could all of the sudden have 250 homes here."
The Village of Cazenovia Code orders R-30 zoned residences require a minimum lot depth be at least 200 feet.
According to Gregg's report, homes built in South Meadows will range in price from $170,000 to $240,000, and in size from 1,900-square-feet to 2,900-square-feet. He said the project would be completed in two phases, and he would ultimately build 68 new houses.
Village Trustee Peggy Van Arnam spoke after Gregg, asking him to amend his site plans to include a road connecting Number Nine Road, which has been discussed as a possibility at past meetings. Van Arnam also commented that the "right-priced" houses may not be affordable to many of the young families who wish to move into Cazenovia.
(Continued on Next Page)
Prev Next
Vote on this Story by clicking on the Icon