Cazenovia — Former Deputy Secretary of State and White House Advisor James Steinberg will offer his unique perspectives on U.S. foreign policy when he delivers the next Cazenovia Forum lecture at 7 p.m. on Friday, Oct. 5 in Cazenovia College's Catherine Cummings Theatre.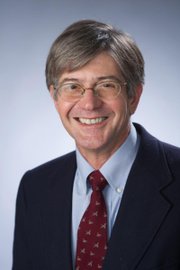 Steinberg's lecture is titled "America in the World 2013 — Long-term Challenges Facing the United States." The event is free of charge and no reservations are required. A reception will follow the talk.
Steinberg served in the number two position at the State Department, under Secretary Hillary Clinton, from 2009 until he left in 2011 to become dean of the Maxwell School at Syracuse University. He also served as deputy national security advisor during President Bill Clinton's second term in office, during which time he also served as the president's personal representative to the 1998 and 1999 G-8 summits.
Following his service in the Clinton-occupied White House, Steinberg became vice president and director of foreign policy studies at the Brookings Institution, where he supervised a wide-ranging research program on U.S. foreign policy. In 2005, he was named dean of the Lyndon B. Johnson School of Public Affairs at the University of Texas, where he remained until his appointment by President Barak Obama to the State Department post.
Earlier in his career, Steinberg served as director of the State Department's policy planning staff, and as deputy assistant secretary for analysis in the Bureau of Intelligence and Research. Previously, he was Senator Edward Kennedy's principal aide for the Senate Armed Services Committee and minority counsel, U.S. Senate Labor and Human Resources Committee.
Steinberg's most recent book, "Difficult Transitions: Foreign Policy Troubles at the Outset of Presidential Power," with Kurt Campbell, was published in 2008.
Steinberg received his bachelor's degree from Harvard and a J.D. from Yale Law School.
His wife, Sherburne Abbott, is vice president for sustainability initiatives and university professor of sustainability science and policy at Syracuse University.

The couple presently resides in Cazenovia.
Vote on this Story by clicking on the Icon