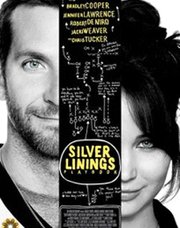 The end of football leaves an awful void in many people's lives. There is no better way to fill the void than to go to the movies on a Sunday afternoon, particularly if the movie is "Silver Linings Playbook."
"Playbook" is exceptional for its script and execution. It is a love movie, a talking movie, set in real world circumstances where the dialogue grabs the audience and won't release them.
The movie begins as Pat (Bradley Cooper) is released from the state mental hospital into his mother's care. Nine months earlier, poor Pat had gone home early from work and found his wife Nikki in the shower, a male teaching colleague with her scrubbing her back. Anger and outrage ensued; the medical community subsequently declared that Pat suffered from an undetected bi-polar disorder.
Many people might declare that Pat was justified in his outrage. However, he has since been unable to control his anger. Anger is his Sword of Damocles; Nikki is estranged, he is obsessed with her return but no permanent reunion is possible unless he keeps his mood swings in check. Enter Tiffany (Jennifer Lawrence) who may be even crazier than Pat. As a friend of Nikki's, Tiffany offers to intervene for Pat…for a price. It is Tiffany's price of doing business that gives the film real flavor and charm. It not only is a wonderful twist to the movie, but provides an essential juncture where Pat and Tiffany are able to take a breath, reassess their situations, and let their characters really develop. It is fun to watch.
"Playbook" is every producer's dream movie. It is set in a Philadelphia suburb where the neighborhood provides its own kind of closeness and special ambiance. The atmosphere, like at a Philadelphia Eagles football game, is loud, proud, and profane. It builds to a crescendo … then softens. The story is relatively simple and the key players are few, yet the small ensemble combines well to enlarge and fulfill the setting. There is, in turns, pain, emotion, and charm. Simple motives and response are well integrated into a solid narrative, providing real grist for great dialogue between the characters.
(Continued on Next Page)
Prev Next
Vote on this Story by clicking on the Icon