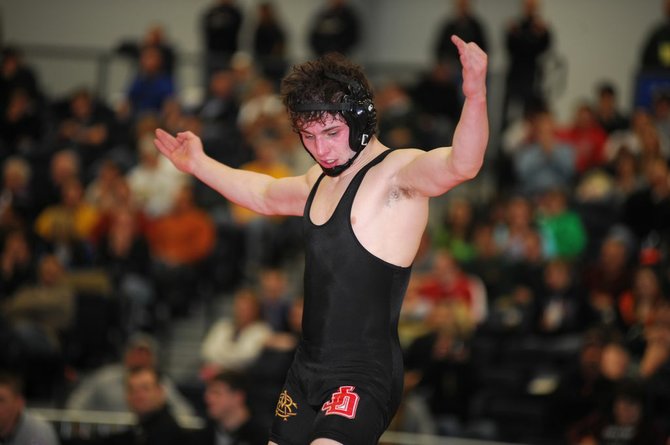 When the top wrestlers in New York gather in Albany's Times Union Center for next weekend's state wrestling tournament, Cazenovia native J.T. Romagnoli is again among the field.
Romagnoli, a senior at Christian Brothers Academy who is part of the combined CBA/Jamesville-DeWitt wrestling team, won his third consecutive Section III title Feb. 9 in the Division I (large schools) championship meet.
Already, Romagnoli is an historic figure in local wrestling annals. No wrestler from Cazenovia has won as many high school matches as Romagnoli (141), and when he claimed his first sectional title in 2011, he was the first Cazenovia native to do so in more than 40 years.
Having won at 130 pounds in 2011 and 145 pounds in 2012, Romagnoli was, again, the favorite in 145 this season, entering the sectional tournament with a 29-6 record this winter after facing strong competition throughout the winter.
Romagnoli had won the Feb. 2 sectional Class AA meet at 145, edging Baldwinsville's Chad McArdell 4-3 in the championship match. Since they were the top two seeds in the Division I meet, most expected a rematch in the finals.
That didn't happen, though. In the quarterfinals, Romagnoli handled Brian Rush (Baldwinsville) 15-4, and then he held off Tristan Broddus (Fayetteville-Manlius) 3-0 in the semifinals, just as McArdell lost, 6-4, to East Syracuse-Minoa's Kyle Parella in a mild surprise.
So now Romagnoli had to face Parella in the championship match, and while Parella hung close for a while, Romagnoli pulled away for an 11-4 decision and that third sectional title.
Joining him from CBA/J-D at the state meet will Ben Honis (a student at J-D), who won the Division I 195-pound division by pinning New Hartford's Jim Laurenzo in the second period of their title match.
As a whole, CBA/J-D has risen quickly after it formed its combined wrestling team in 2010-11, going from 22nd place in that year's sectional meet to third this year behind long-time powers B'ville and Fulton. It also finished second to B'ville in the sectional Class AA meet.
Once wrestling is done, Romagnoli will go back to lacrosse, where he will continue his athletic career when he attends the University of Delaware.
Vote on this Story by clicking on the Icon