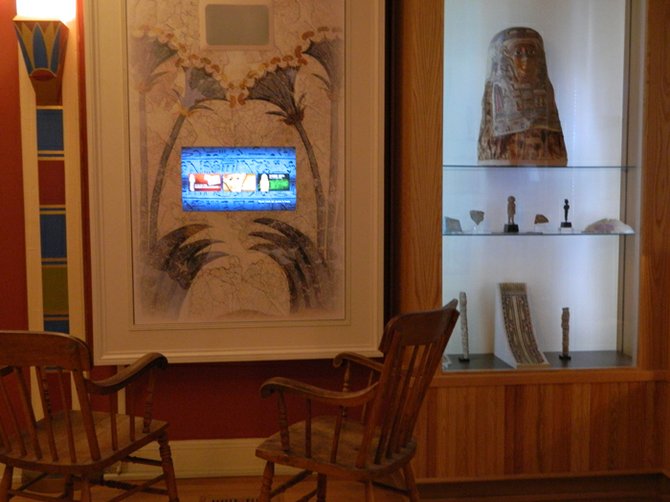 Cazenovia — Every year for about 10 years, first and second graders from Burton Street Elementary School have been going to the Cazenovia Public Library for field trips.
At the library, the students see historical and scientific artifacts that are all over a 100 years old, Egyptian artifacts and a real mummy that are thousands of years old. The principal of Burton Street, Mary Ann Macintosh, said that the students go to the library for field trips because it is part of their curriculum, they are learning about their community and they are also learning about the library and how to take out books.
The artifacts in the museum were bought and brought to Cazenovia by Robert James Hubbard. Hubbard bought some of the Egyptian artifacts from antique dealers in Cairo. He bought the Egyptian artifacts in 1894 and sent them to Cazenovia in 1895 to add them to the library's museum collection.
Every spring, as a field trip, the first and second graders go to the library. The first graders go to the museum to get a tour of the library. Also, it is one of the stops on their community walk. The community walk is when they walk around the community to get to know it better, and visit places like the fire station, the police station and the village hall.
The second graders see and learn all about the mummy and the Egyptian artifacts that are with it. Some of the artifacts that the second graders see are mummified cats and birds, Egyptian jewelry, and mini statues (shabtis) that act as servants in the Underworld and would have been in a royal tomb.
The mummy, Hen, was a 25-year-old man when he died more than 2,000 years ago. He died from a malignant bone tumor that was located in his right leg, below the knee. Hubbard bought Hen in Cairo in 1894 for $2,000, and shipped him to Cazenovia in January 1895 for another $2,000. One month later, a "mummy tea" was held by the library for the entire community in honor of Hen's arrival. More than 350 people attended. In the library, there is a special room where you can see Hen's x-rays and pictures of his CAT scan.
(Continued on Next Page)
Prev Next
Vote on this Story by clicking on the Icon