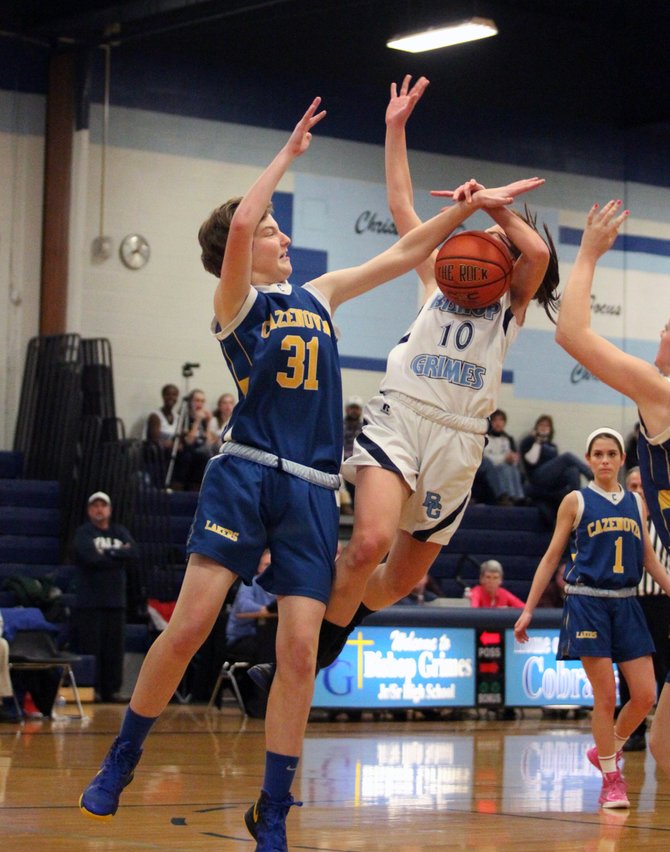 East Syracuse — Staring at an extended late-January break, the Cazenovia girls basketball team wanted to head there with as much momentum as possible.
The Lakers got it Monday night, going to Bishop Grimes and, with Maggie Carpenter leading a second-half comeback, putting together a 43-35 victory over the Cobras.
With that win, Cazenovia improved to 10-2, and clinched a winning record, a huge improvement from the team's struggles in 2011-12, when it missed the Section III Class B playoffs.
At 8-3, Grimes held the lead in the OHSL Liberty American division, getting there with a deep, versatile lineup that atones for a lack of inside strength with a devotion to defensive pressure that leads to baskets on the other end.
Knowing this, Cazenovia spent most of the first half playing a straight 2-3 zone, daring the Cobras to hit outside shots. Grimes did so, making six 3-pointers, not even getting a two-point field goal until the last minute of the half.
So even though the Lakers held the Cobras without a field goal for nearly nine minutes, it trailed, 19-17, at halftime. A large part of the problem was that, offensively, it rushed shots and did not convert inside. Carpenter, in particular, was cold, held to just two points.
All of that changed in the third quarter. Mixing up defensive looks (some zone, but also some full-court pressure), the Lakers again shut Grimes down, the Cobras again going nearly nine minutes without a field goal, which stretched deep into the final period.
Cazenovia moved ahead for keeps with a 14-1 run to seize a 33-24 lead, and most of it came from Carpenter, who had eight of those points and 10 overall in the second half, the help coming from Kristie Kleine, who had 11 points, and Kaitlyn Gerber, who added eight points.
Still up by eight, 40-32, the Lakers saw Grimes' Teresa Shattuck drain a 3-pointer with 2:13 left to cut the margin to five, and Cazenovia remembered that the Cobras nearly erased a 12-point deficit to Skaneateles in the final minute of last Thursday's game.
Once more, the Lakers tightened up its defense, and Grimes did not score again as Gerber sank a short jumper with 1:27 to play and Kleine added a late free throw.
For nine days, Cazenovia will rest, recuperate and practice until it hosts Jordan-Elbridge on Jan. 23, two days before a non-league game at Cortland.
Vote on this Story by clicking on the Icon