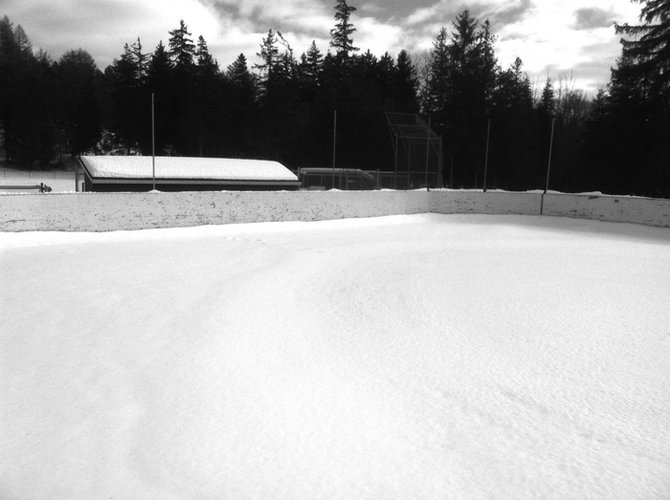 Cazenovia — The ice rink at Burton Street Fields has not yet opened this winter due to snow. The Department of Public Works will be able to flood the rink only if the temperature is below freezing and snow removal is not a pressing issue.
"If we have a significant snowfall, the priority becomes snow removal," said Dave Porter, the village parks commissioner. Managing the removal of the recent snowfalls has monopolized the effort of Cazenovia's DPW and they have not had the time to flood, freeze and maintain the public rink on Burton Street, he said.
Most years, seeing skaters and hockey players on the rink was a sign that winter had truly arrived. Last winter, however, the rink suffered due to the unseasonably high temperatures and did not open at all.
Cullen Franz, a senior athlete at Cazenovia High school, was disappointed that the rink was not open for the Christmas break. "It was always fun to meet friends there and play [hockey], it's too bad that they haven't been able to freeze it this year, especially because last year it wasn't open at all," Franz said.
Unfortunately for Franz and others who enjoy the public rink, weather is not predicted to be consistently below freezing in the coming week. Porter cited the weather as the reason he was not certain of a date when the rink would be open this winter. "Since it is an outdoor rink, we are really working at the mercy of the weather," he said.
Skaters who anticipate the opening of the Burton Street Fields ice rink should watch the weather report. The conditions required to flood and freeze the rink would be a consistent stretch of below freezing temperatures and very little snowfall.
Terence Hartnett is an Eagle Newspapers contributor. He can be reached at editor@cazenoviarepublican.com.
Vote on this Story by clicking on the Icon