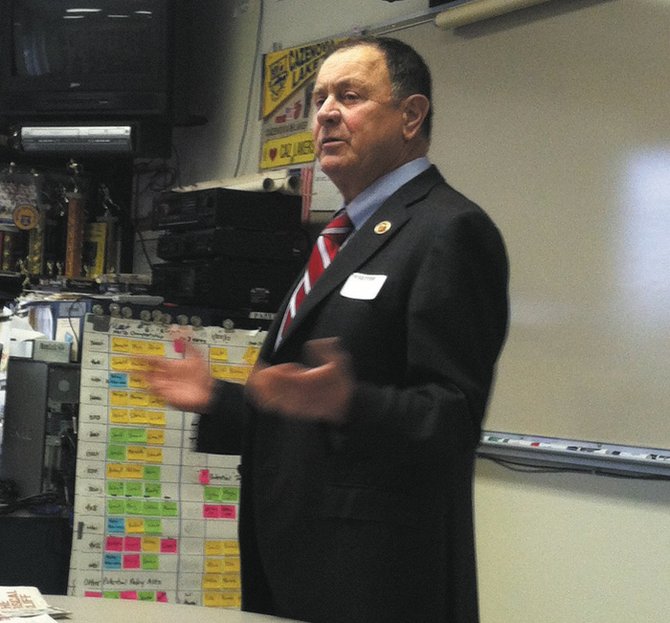 Cazenovia — Rich Hanna shared his personal and political experiences as a representative of New York's 22nd Congressional District to a Cazenovia High School senior AP government class last Friday. Among other things, Hanna spoke about his bipartisan efforts in the House of Representatives.
"It's very partisan," Hanna said about the state of the political landscape in Washington. "The Democrats want no changes in entitlements, the Republicans want no changes in taxes, certainly nothing that goes up, and both of those positions are untenable."
Hanna added later, "The whole notion of being partisan just doesn't make sense to me … at the end of the day nobody gets their way down there. Everybody tries to, but it's important that you compromise. Compromise isn't treason, but you feel like it is down there."
One question posed by a student regarded specific strategies that Hanna used to achieve bipartisan efforts. "It's easy," Hanna answered. "There are so few people in the Republican party that work well with the Democrats that I virtually stand out."
Hanna told the students that dishonesty is "unfortunately" a part of the American political system, and emphasized that his approach to politics is based primarily on honesty with his constituents.
"Every time I take a vote, I write why I did that … I'm willing to defend what I do," he said of his voting record.
Brody Kellish, a senior, asked Hanna "How much of your policy stances and voting in congress is based on your constituency versus your own personal views and beliefs?"
Hanna responded with an anecdote about his recent vote on the fiscal cliff issue, which he said represented the economic interest of 99.9 percent of his constituents.
"If I don't represent the broader opinion of the people that I work for, being 51 percent or more, then I don't deserve to be elected," he said.
(Continued on Next Page)
Prev Next
Vote on this Story by clicking on the Icon