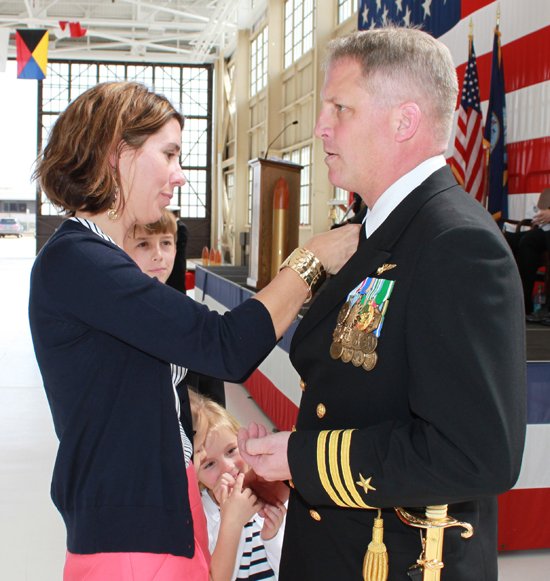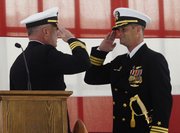 Patrol Squadron Six Two (VP-62) held a change of command ceremony onboard Naval Air Station Jacksonville (Fla.), Saturday, Feb. 23, and Cazenovia native Cmdr. Jon Townsend took command of the squadron.
With the words, "I relieve you, sir," Townsend relieved Cmdr. Jerry Dearie as commanding officer and became the 31st commanding officer of the Broadarrows of VP-62, one of two Reserve maritime patrol squadrons in the Navy. The squadron consists of 115 drilling reservists and 110 active and full-time support personnel. Broadarrow reservists travel from nine states to train for operational missions in support of national defense.
Townsend will be in command for the next 12 months.
"It's exciting to have the opportunity to lead this squadron at a time when the concept of Active Reserve Integration is alive and well," Townsend said. "In fiscally austere times, it's critical that the call to duty come the way of the Reserve Component. VP-62 has been called to meet global force requirements during the fleet transition to the new P-8A airplane. We are ready for the call, and I am excited to be part of it as the commanding officer."
Townsend was raised in New Woodstock, graduated from Cazenovia High School in 1990 and received his commission from the United States Naval Academy in 1995.
He completed primary and intermediate flight training with Training Squadron Twenty-Seven (VT-27) in Corpus Christi, Texas, and advanced flight training with Training Squadron Thirty-One (VT-31) at NAS Corpus Christi. He was awarded his pilot wings in October of 1997 and reported to the Fleet Replacement Squadron Patrol Squadron Thirty (VP-30) at NAS Jacksonville, Fla.
Townsend served tours with VP-10, VP-30, VP-62, and U.S. SOUTHERN Command prior to reporting back to the Broadarrows as executive officer.
His awards include the Air Medal, the Defense Meritorious Service Medal, the Joint Commendation Medal and the Navy Commendation Medal.
(Continued on Next Page)
Prev Next
Vote on this Story by clicking on the Icon