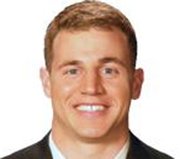 SYRACUSE — Cazenovia native Tom Eschen received the A Brohman Roth Newcomer Award at the Syracuse Press Club annual awards dinner last Saturday, May 4.
Eschen grew up in East Syracuse and attended St. Matthew's school as a child. His family moved to Cazenovia and he attended Cazenovia High School, where he won a Section III title as a captain of the football team.
Eschen is an Ithaca College graduate with a degree in journalism and started his career at CNY Central as an intern, where he volunteered as a host for CNY Central Deal of the Day features. He was hired as a part-time news and sports reporter at the station in February 2012, and became full-time that July.
"Tom has a fantastic work ethic and has proven to be extremely versatile," said Rae Fulkerson, vice president of news at CNY Central. "He comes in every day prepared to handle whatever he's assigned to, whether it's putting together a sportscast or covering live breaking news. Plus, he does all this with a great gratitude. He's extremely calm under pressure, especially for someone his age."
Eschen's family still lives in Cazenovia.
For more information about Eschen, see his biography at the CNY Central website at cnycentral.com.
Part of this report was taken from the SPC awards banquet program. Jason Emerson is editor of the Cazenovia Republican. He can be reached at editor@cazenoviarepublican.com.
Vote on this Story by clicking on the Icon