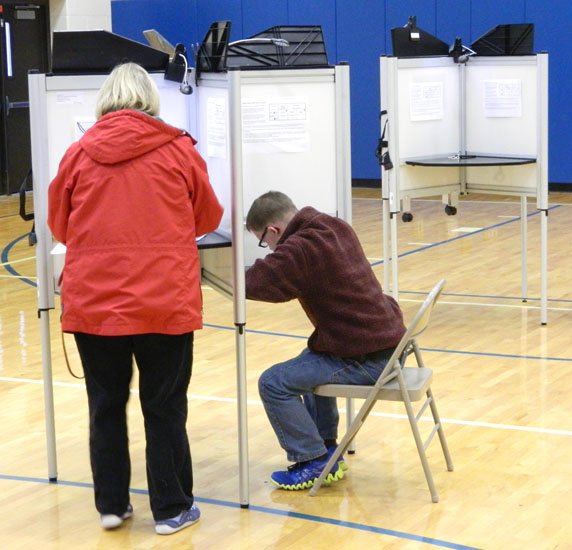 Cazenovia — With 100 percent of precincts reporting, Cazenovia voters apparently approved two ballot propositions in last night's vote, saying a definite yes to changing the town supervisor term of office from two years to four years, and a likely yes to changing the town clerk from an elected position to an appointed one. The town clerk proposition approval, however, only passed by 35 votes at the ballot box, and there are 61 absentee ballots waiting to be counted by the county board of elections, and 23 more absentee ballots that can still be received by Monday, Nov. 11.
According to BOE figures, 1,222 ballots were cast in the election.
Proposition 1 on the supervisor term of office passed handily with 758 votes to approve and 426 to reject. Proposition 2 on the town clerk's position passed by a relatively narrow margin of 35 votes, with 608 voting yes and 573 voting no.
Initial figures reported by the Madison County Board of Elections Tuesday night showed the town clerk proposition on its way to rejection by a no vote of 326 to 308. Returns from Districts 2, 3, and 6 came in late -- after 11 p.m. -- however, and once those ballots were counted the proposition's numbers had flipped the other way.
"I really wanted the clerk proposition to pass because it's the face of the town and the job entails huge responsibilities. You can't just walk in and do the job. Connie [Sunderman] is excellent, and we want to keep her as long as she's willing," said supervisor-elect Bill Zupan on the town clerk proposition. Zupan, a current town councilor, cruised to an uncontested victory last night with 860 votes. There were also 14 write-in votes.
Sunderman, the current deputy town clerk, was elected in an uncontested race to become the town clerk. She received 929 votes. There was also two write-in votes.
(Continued on Next Page)
Prev Next
Vote on this Story by clicking on the Icon