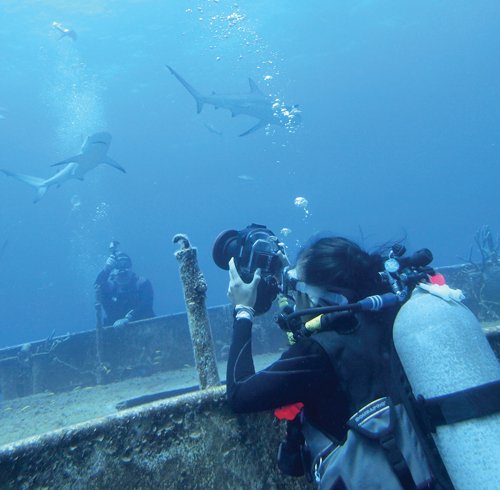 Cazenovia — Meerae Firkins, a 10th grader in Cazenovia High School, spent the end of her summer this year on a scuba diving trip in the Bahamas where she made 25 dives in five days, swam with sharks, explored a shipwreck and won an award for creating the best underwater video on her ship.
"I love diving because it's peaceful, fun, relaxing and a whole other world," she said.
"Water is her passion," said Meerae's mother, Sue Firkins. Meerae, who started diving when she was 10, now has about 250 total dives under her belt, has dived all over the world, including the Bahamas, Fiji and Belize.
On their most recent diving adventure during the last week of August, Meerae and Sue — who take a diving trip together every year — went to the Bahamas for what's called a "live-aboard" boat experience: 21 people lived on a 100-foot Catamaran boat for five days just "sleeping, eating and diving," Sue said.
While most divers on board — all adults except for Meerae — dove three times per day (at an average of 60 minutes or so per dive to 20 or 30 feet of water) the Firkinses both dove five times a day for all five days. They were the only two divers on the boat to complete the feat, which earned them both "iron women of the week" certificates. Meerae also made an underwater video of an arrow crab eating, which was voted the best video of the trip by the other divers.
During their dives, mother and daughter swam with sharks, examined a shipwreck and saw all sorts of aquatic life such as eels, lionfish, octopus and stingrays, Sue said.
"You see different sites every time you're going to dive; you never know what you're going to see," she said. "It's like being in a giant aquarium. It's phenomenal."
Meerae said her most memorable dive to date was when she swam with bull sharks in Fiji.
Meerae, who is 15 years old and a member of the Syracuse Chargers swim team, wants to be a dive master after graduation, her mother said. A dive master takes people out on diving excursions. "She loves the water, and has amazing diving skills," Sue said.
Vote on this Story by clicking on the Icon