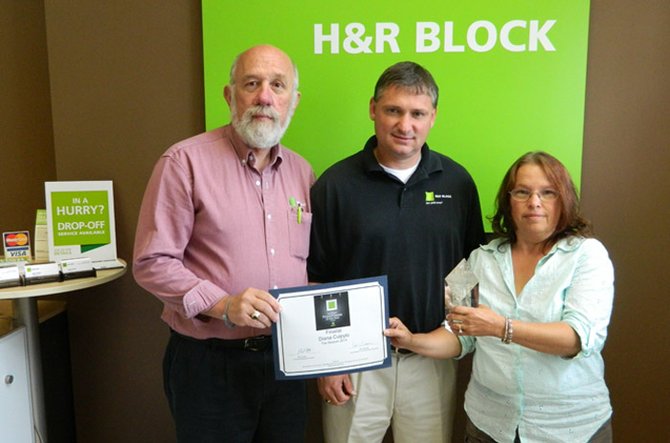 Cazenovia — The Cazenovia branch of H&R Block was recently named one of the top 100 H&R Block franchises out of 4,500 in the United States. The recognition was given for having some of the highest client satisfaction and business growth numbers in the company.
"It's nice to know that all of our efforts have been noticed," said Rick Hannafan, franchise partner and tax advisor. "We want to bring a good client experience to everyone who walks through the door from the college student who has a 1040 EZ to file to a business client who needs payroll, bookkeeping or accounting assistance."
This is the second time in four years that the Cazenovia franchise has received this recognition, said franchise district manager Todd Bernhardt, who traveled to Cazenovia on July 8 to deliver the award. Cazenovia also made the top 100 franchise list in 2011.
"I really do think that with our continued presence [in the Cazenovia community] and our high client satisfaction scores, people tell other people, and we continue to have success," Bernhardt said.
The Cazenovia franchise has been around for nearly a quarter century. It was located in the Cherry Valley Professional Office Building on Route 20 for 20 years, and moved to the plaza on Albany Street next to Harris Cleaners in 2011.
The Cazenovia H&R Block is open year-round, offering not only tax return filing but also all types of financial services. In 2014, the Cazenovia franchise completed 991 tax returns, and recently launched the company's new Block for Small Business program that offers payroll, accounting and bookkeeping services for business clients, Hannafan said.
H&R Block is one of the world's largest tax services providers, and prepares one out of every seven U.S. tax returns, according to company information.
H&R Block is located at 138 Albany St. Contact them at 655-2784, or visit the website at hrblock.com.
Jason Emerson is editor of the Cazenovia Republican. He can be reached at editor@cazenoviarepublican.com.
Vote on this Story by clicking on the Icon