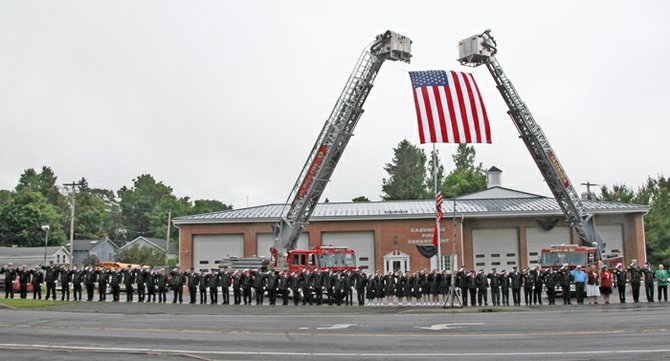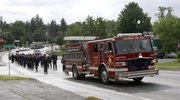 Cazenovia — Ladder trucks from Cazenovia and DeWitt fire departments were poised in front of the Cazenovia Fire House on Monday, July 28, a U.S. flag suspended between the two extended ladders, as firefighters from Cazenovia, DeWitt, and numerous other local, regional and state fire and emergency services organizations said goodbye to their colleague, John Haley.
Haley, a career firefighter, former Cazenovia VFD chief and member of numerous state and regional organizations, passed away last Monday, July 21, at the age of 67.
During Haley's funeral on July 28, his body processed through the streets of Cazenovia on the back of a fire truck — from Tait Funeral Home to St. James Church, with a stop in front of the Cazenovia Fire House, to St. James Cemetery.
"Normally, that is for a line-of-duty death, but we believe that for all time he put into the fire service, he definitely deserves a good going out," Cazenovia Fire Chief Nick Enders said.
Haley was a career firefighter who began in 1967 when we joined the Cazenovia Fire Department, and which he later served as chief from 1987-89. In 1970, he became a paid professional firefighter/paramedic for the DeWitt Fire District retiring, in 1990.
During his nearly 50-year tenure in fire and emergency services throughout the Central New York region, Haley belonged to, and served in leadership positions, in numerous organizations, including the Madison County Firemen's Association, the CNY Firemen's Association, Fire Associations of the state of New York and the New York State Association of Fire Chiefs. He was a Madison County fire coordinator for 25 years.
In Cazenovia, where he lived, Haley was a lifetime member of the Cazenovia Volunteer Fire Department and a charter member of Cazenovia Area Volunteer Ambulance Corps. He also served for 10 years as a zoning officer for the village of Cazenovia and was a member of the Cazenovia Civic Club. He was also active in the Greater Cazenovia Area Chamber of Commerce and the Cazenovia Car Club.
(Continued on Next Page)
Prev Next
Vote on this Story by clicking on the Icon