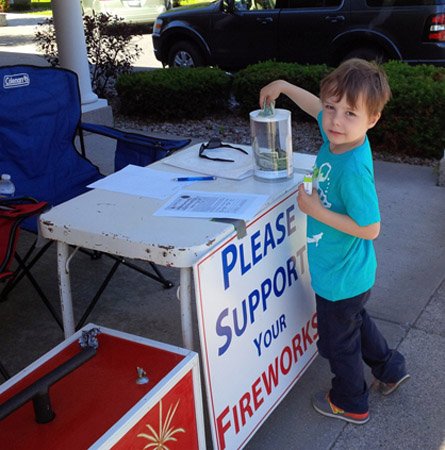 Cazenovia — The 2014 Fourth of July Fireworks over Cazenovia Lake will be the largest, loudest, most impressive show the Cazenovia Lions Club has ever sponsored — and the club is excited to show off the results to the community.
"For me, with all the improvement, I can't wait to see the show," said George Williams, Lions Club Fireworks Committee Chair.
This year's opening barrage will be double the size it was last year; there will be 70, 3-inch Titanium salutes – the loudest allowed by law — added to the body of the fireworks show; and two, 100-shot hammer barrages will be added to the grand finale, Williams said. The Cazenovia Lions Club will work again with the Zambelli Fireworks Company to create the show.
It costs $10,000 to put on the Cazenovia July Fourth fireworks show, which the Lions Club raises every year through community donations. The new additions to this year's show cost the club $750.
This will be the eighth year the Cazenovia Lions Club has run the annual Fourth of July fireworks show — a show that attracts thousands of spectators from across Central New York to Cazenovia, where people inundate Lakeland Park and cram Gypsy Bay, cars line routes 20 and 92 and boats congregate in Cazenovia Lake to get the best views.
The Lions Club has been increasing the size and complexity of the Cazenovia fireworks display every year. Last year, the club added 23 of the largest size (five- and six-inch) shells to the middle of the show; the year before they added 136 new fireworks shells.
Mayor Kurt Wheeler this year will again use a dynamite plunger to start the show, as he did in 2013, Williams said.
The Cazenovia Lions Club continues to raise money for the 2014 fireworks show. As of press time they had accumulated approximately $8,500.
(Continued on Next Page)
Prev Next
Vote on this Story by clicking on the Icon